Assisteens select and model fashions sold at the Assistance League Way Side Inn Thrift Shop at annual sell-out fundraiser held in March.
Since 1977, Assisteens®, an auxiliary of Assistance League® of Diablo Valley, has encouraged teens living in the Contra Costa community to volunteer by raising funds that benefit children and seniors. Now celebrating 40 years of service, Assisteens membership includes girls and boys of both middle school and high school ages. If you enjoy meeting students from other local schools and developing skills in leadership, organization and community service while having fun, read on.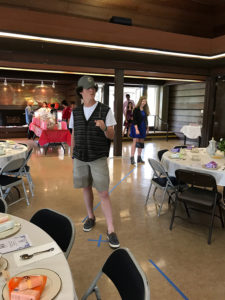 Auxiliary Liaison Linda Benetar reported at a chapter meeting that Assisteens activities include hosting two parties for elementary school children; one with gifts from Santa, as well as a springtime event which boasts a large, white furry guest of honor. Assisteens also write letters to homebound seniors.
These energetic tweens and teens supply snack packs for receiving center emergency kits, support foster youth and participate in Seasons for Seniors, a program of activities, one of which is the ever popular Balloon Volleyball, with senior residents at Kensington Living Facility in Walnut Creek. They also support Assistance League of Diablo Valley's nine hands-on philanthropic programs throughout the year.
As important, Assisteens commit to working at the Assistance League Way Side Inn Thrift Shop, the chapter's primary fundraiser, located in Lafayette. Every spring, the Assisteens organize a very well attended fashion show where they model fashions garnered from the thrift shop.
Assisteens are also encouraged to attend the annual National Assisteens Conference where they meet other teens from across the nation while experiencing life on a college campus. While there, they engage in team building exercises and attend workshops regarding topics such as cyber safety, public speaking, business etiquette and other leadership building classes.
THIS JUST IN–Two Assisteens earned the Presidential Volunteer Service Award for this fiscal year. They are Ana Bernardo, Assisteens outgoing Chairman, and Anna Meehan, Assisteens incoming Chairman. Both volunteered a minimum 100 service hours to earn this award.
If you want to enrich your life by making a difference in the community, Assisteens is for you! Applications will be accepted through September 30; membership will be limited to 60.To learn more, please visit this website: diablovalley.assistanceleague.org.