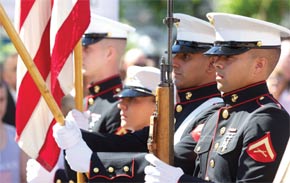 The poignant words; "be a light, be a light, be a light," handwritten on the first page of Joshua Corral's bible tells volumes about the 19 year-old U.S Marine, known to everyone as Chachi, who lived steadfastly by his humble mantra, as reported by his commanding officer, Captain David Russell, at the young soldier's recent memorial in Danville.
It was while Chachi Corral was being a light to his fellow Marines that he volunteered to be the "sweeper"—the one who walks ahead of his unit, the one who sweeps the area for landmines and IEDs with a metal detector to protect his comrades following behind. Chachi had volunteered for the most dangerous of all jobs while walking across the arid terrain; to be the "point of the spear."
His brother, Zack Corral, 22, told me how it all went down; how Chachi volunteered to lead the way, following his own personal quest by being the light; a beacon forging a safe and clear path for his soldiering friends when the buried bomb exploded on November 18, 2011. The 3rd Battalion, 7TH Marines from Marine Corps Air Ground Combat Centre were in the deadly region of Sangin, northwest of Kandahar, Afghanistan, when the killer IED went off.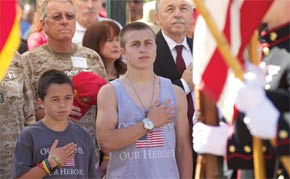 By coincidence, one of his closest friends in the Marines was Zachary Rieff, also known as Zach, his brother's name. Zach was supposed to fall back but he followed close to Chachi; he had Chachi's back, and had said that if he were to die he would want to die with his buddy. The two friends were ahead of their unit, forging a safe path, when the IED went off. Chachi died of mortal wounds; Zach died shortly after.
Zack Corral shared at the memorial that his brother felt God gnawing at his heart, and when he joined the Marines he already knew that he would be deployed to Afghanistan. Lance Corporal Joshua Chachi Corral could not know that so soon after his unit's arrival, a fatal hidden bomb would go off beneath his feet.
After graduating San Ramon Valley High School in the class of 2010, Joshua Chachi Corral volunteered for the Marine Corps and did basic training in San Diego with the 3rd Battalion, 7th Regiment. Several members of the same graduating class joined the Marine Corps; two were present at his recent memorial dedication—and some who served in Chachi's battalion in Afghanistan, and who witnessed the explosion, were in the honor guard at the sculptural memorial's unveiling.
VETERANS MEMORIAL BUILDING
The Town of Danville had recently celebrated the Grand Opening of the $8 million renovated historic Veterans Memorial Building of San Ramon Valley on Hartz at Prospect. Rear Admiral Mary P. O'Donnell, USCG Retired, in her inaugural remarks, drove home the heartfelt points that our nation's warriors do not fear death, do not fear going MIA, do not fear being wounded; but the casualty of being forgotten is what they fear the most.
So, in the spirit of revering the memory of our military men and women for their selfless service, the trustees worked with the Semper Fi Foundation funding partners who sealed their commitment with a bronze iconic sculpture known as the "Battlefield Cross." The sculpture dedicated to honor Lance Corporal Joshua Chachi Corral and all Fallen Heroes, now stands permanently outside the Veterans Building depicting the helmet on rifle and boots forming an ad hoc cross that warriors traditionally set on battlefields to honor their fallen comrades.
The Danville Fallen Hero Memorial was unveiled on a new summer's day, 23rd June, when many veterans groups and hundreds of citizens honored the memory of those who gave their lives in service to their country, and Chachi Corral, our town's own fallen hero; still in his teens when he gave his young life for our freedom—all gave some—some gave all.
SEMPER FI
Soon after Chachi was killed in action, his parents Denise and Arnie Corral, knew the importance of recognizing those who had sacrificed their lives in service to their country, and to honor their son's wishes and memory were instrumental in supporting the needs of his fellow Marines. One month after his death in 2011, the Semper Fi Foundation was formed by a citizen's group, spearheaded by Len Hack, with a defined mission to rally support for all United States Marines, fallen heroes and their families. The camaraderie between the Marine Corps and the Semper Fi Foundation was poignantly evidenced at the recent memorial celebration.
Captain David Russell, USMC 3/7, Chachi's Commanding Officer, spoke at the memorial, about how today's military is the most educated and highly trained, and go to battle with the most advanced weaponry in military history. He made the point that even with the most rigorous training and the best defense capabilities, there is no protection against the enemy's seemingly innocuous improvised explosive devices buried in the sand, or on the roads, that have killed or maimed so many of our military.
Those who attended the Celebration of Life Memorial for Danville's young fallen hero were imbued with a renewed sense of pride and respect for those who have fallen, and those patriotic citizens who honor their memories— especially the Corral family. The Town of Danville, known for its unique style of patriotism and commitment to honor our military, went beyond the anticipated by sponsoring a glorious day on the Community Centre green.
At the finale of the bitter-sweet memorial service, a mariachi band played and the celebrants followed the music to have lunch at an array of food kiosks in the park. At the conclusion of L.Cpl. Joshua Chachi Corral's celebration of life there were embraces, smiles and tears, but above all, a sense of remembrance for those who gave their all for their beloved United States of America.
The sentiment was best said by Spike "Go Navy Baby" Schau, coordinator of the patriotic motorbike Warriors' Watch Riders, who has racked up over 700 military escorts on his Harley Electra Classic. "That's what we do." Spike smiled with resolve; his vest heavy with medals, buttons and pins. The local Warrior Watch Riders is a group of about 30 bikers who welcome home unsuspecting soldiers from Iraq and Afghanistan. "We never forget our fallen warriors; about 60 bikers joined our military escort to Travis AFB last November to welcome Chachi home and with American flags waving, we rode along in the funeral parade to his family in Danville on his last ride home."
Semper Fi, Chachi. Be a light, be a light, be a light…