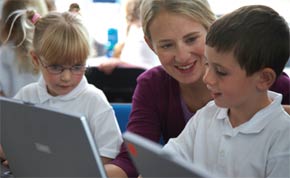 Recently, I started tutoring a former student who is autistic. His parents are extremely driven to find the best course of action for his education. This entails meetings, assessments, observation, tutoring…the list goes on. It got me thinking about advocacy and support for parents who have children with learning needs. Having a child with a learning difference, be it ADD, dyslexia or any other need, can be daunting. Where do families go to educate themselves and find emotional support? How do they begin the long process of making changes to their child's education? I asked the mother of my student what they found to be the most challenging part of the diagnosis for them and what has been the biggest help. My hope is that this information will assist other families in the process of becoming well-informed, proactive advocates for their children.
The Most Challenging Part: Some school systems do an excellent job of guiding parents through this challenging time and unfortunately, some do not. In the case of my student's family, they did not agree with the school's stance and forged their own path and found their own support. However, it is not always that way. Often meeting with the school's special needs teacher or administration can give you the information and resources you need to make the next steps.
What Has Been Helpful: Connecting with parents who are going through a similar situation is imperative. Her saving grace was a woman she met through the school who also has an autistic child. She acted as a comfort, a counselor, a sounding board and above all a friend.
Extra Help: If the public school system does not provide sufficient support or you find your child needs more assistance, there are organizations that can help. These companies give many services such as student observations, behavior management, classroom assistance and tutoring after school.
Know Your Rights: Find out everything you can about special education law. While you may never need a lawyer, consulting one for questions surrounding this complicated topic is beneficial to ensuring your child is well taken care of by the school.
Here is a list of local services that cater to a variety of learning differences:
Choices 4 Learning: A great website to use when starting this process as it provides many different kinds of resources in the Bay Area. http://choices4learning.com/
Pacific Autism Learning Services: Services for autism that include, evaluations, aids, and tutoring. http://www.palsautism.com/index.html
Step by Step for Success: Academic coaching K-12 specializing in ADD/ADHD, NDL, Dyslexia and executive functioning. http://www.stepbystep4success.com
Parents Helping Parents: Support groups and events for parents. http://www.php.com/
If your child has been diagnosed with a special need, remember that you are not alone. There are many local resources that are just a phone call away and that can help you gain the knowledge you need to make excellent decisions for you and your child.