Once in a while, I love seeing a movie that I know nothing about ahead of time. This was The Book of Henry. I wasn't sure I wanted to risk a friend's fifteen bucks in case it was a bust, so I saw it by myself. This is one of those films that you truly aren't sure how you feel about it until the credits have rolled.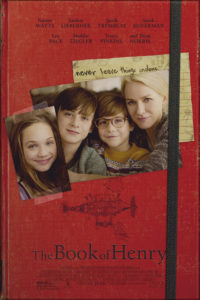 In case you're wondering, I loved this movie. Going into this review, I'm not even sure what I'm going to say about it. It's a little hard to explain but just maybe that's the exact reason I liked it so much.
Sometimes things aren't always what they seem, especially in Henry's world. The Carpenters, single mom, Susan, and her two son's Henry, eleven, and eight-year-old Peter, live in a small, suburban town. Susan works in the local diner with her best friend, Sheila. Peter is a playful little boy who adores his older brother Henry, and the feeling is quite mutual.
Protector to Peter and tireless supporter of his often-self-doubting mother, Henry goes about taking care of everyone and everything in his world. Henry is a genius who spends his days and nights arranging things, including the family finances by investing. At Henry's insistence, Susan discovers that the family next door, which includes Henry's classmate Christina, has a dangerous secret and Henry has devised a surprising plan to help. As his ingenious plan to help Christina takes shape, Henry falls ill and Susan finds herself at the center of the plan.
This film is different—definitely not run of the mill. Once in a long while, you find a movie that was made for the sheer beauty of the film. This is one of them.
The Book of Henry takes you down one road and the next thing you know, you're down another road. It certainly keeps you on your toes, so just let it play out and by the end you'll see that all the roads lead to the place that only a young genius can take you. The reviews I bothered to read were all over the place. The critics, for the most part, didn't like it, but that's what made me want to see it.
The cast is wonderful. Naomi Watts as Henry's mother is so believable, and Jaeden Lieberher, as Henry, is truly amazing. Christina, the girl next door, is quite accomplished. You may recognize her from her five-year stint on Dance Moms. Younger brother, Peter, was played by Jacob Tremblay. Director Colin Trevorrow should be applauded for his work but also for the sheer risk of making this movie.
I ask you to view this movie with an open mind. If you are the kind of person who criticizes a film for being different, then your experience with this film will be flawed and you might want to skip it. But if you do watch it, you will be amazed.
I would suggest care when viewing with younger children. It's rated PG-13 and that's about where you should start. While not graphically so, it does deal with subject matter that may not be appropriate for younger children.
I am truly interested in finding out what you thought about this one! Let me know at Carolyn@CarolynHastings.com