July is celebration month for Americans. We have Independence Day, summer vacations, picnics, good weather—the whole package. Generally, I'd say most people tend to be in good moods in July.
Of course we all know that nobody is happy all of the time… but don't you know a few people that make you wonder about that? You know, the "positive" people; the ones that make you feel better whenever you're around them. These are the people in your life that never make their problems your problem. They always encourage and edify, and their cheerfulness stems for an honest joy of living. These are the kind of people that I hope to be more like.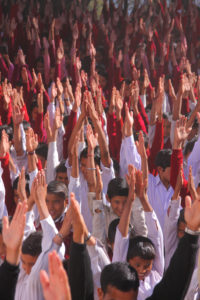 My aunt Rachel, cousin Susan, and brother, Richard top my list, along with my friends Bob, Tom, Joe, Amhad, Mike, Terry, Dee, Richard, Ann, Rodney, and many others. I suppose creativity has something to do with this "positivity gene" as well, as most all of the writers and authors I work with tend to be this way, too.
Being positive doesn't mean ignoring the world's problems however; it just means that positive people tend to offer solutions. With that in mind, here is a poem (the author, being one of my positive-thinking friends, wishes to remain anonymous), offered in the hope of creating a movement, intended to bring peace to our world:
Top of the Hour Power
Only one man-made standard throughout our great earth
tis the measure of time as each hour gives birth.
The Tops of the Hours occur at the same time
an invisible chain linking all of mankind.
And we all have in common a power so dear
our own private thoughts that no one can hear.
No matter what country or race or divide
what we say in our minds we don't have to hide.
What if prayer were offered to God in this way
at the Top of the Hour from L.A. to Bombay?
No country nor army nor ruler of man
would wield enough power to stop or withstand
the linking of minds throughout every nation
tis our weapon of Love will ensure our salvation.
Whenever you choose, come join this great throng
at any Top of the Hour you can pray right along.
So what prayer should be offered in this glorious game?
"Our Father, who art in heaven, hallowed be thy name…"
Every language and race and age He will hear
giving hope to us all so no one will fear
the evil on earth which threatens us so.
With the power of Love our enemies will know
at the Top of the Hour our weapon of choice
is the power of prayer offered up with one voice.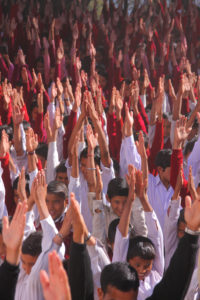 Feel free to pass this poem along to everyone you know, along with my wishes to all for a joy-filled July!