I don't have a musical bone in my body, but I have always loved music. As a kid growing up in the 1960s and 70s, I would listen to Elvis records on my portable record player, playing air guitar and lip-syncing before it was called air guitar and lip-syncing. When I was a little older, I longed to be a member of the Partridge Family or Osmond Brothers. As a teen, I dreamt—actually dreamt—of starting my own band, cutting records and touring the world. My fictitious band name was Gigolo, and I even designed the t-shirts and posters we would sell at our concerts.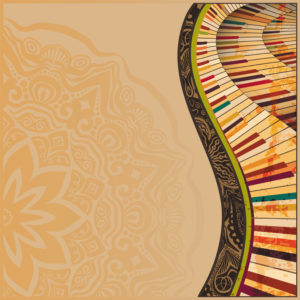 Sadly, or some might say unfairly, I can't play any instrument. I certainly can't sing, and despite having a little bit of rhythm, I can't even dance. I've taken guitar, drum, bass, saxophone and tambourine lessons and can't play a note. Some days, I have trouble just playing the radio. Maybe this hard to admit truth is why I've always been so drawn to musicians. Not drawn in a sexual way, although certain members of the Go-Gos and Bangles were pretty hot in their day, and don't even get me started on Nancy Wilson of Heart.
Due in large part to my lack of talent, I've been inspired to assist my musician friends by promoting their talents through some of my magical resources. In the early 1990s, I started a booking agency and helped line up gigs for the likes of Floyd's Ordeal, Blue House, The Del Toros, Paul Blote, The Marina Towers Band, Gary Tackett and a little known country artist named Paul Jaqua.
Since that time, I've gone on to organize and promote club shows (Suburban Slow Death, Replica, Tyler Stimpson) and produce music fundraisers (MdK, Jeff Campbell, Courtney Randall, Pine & Battery and Heather Combs). I've also written numerous profiles on the likes of Michelle Maeso, Floyd Killen, Paul Jefferson, David Victor, Steve Albin and Suzanna Spring.
It's not much, but if I was a roof-raising rocker or cerebral coffee house singer/songwriter, I would truly appreciate it if someone would help me generate some much-needed attention for my mad musical skills by penning a feature article on me or inviting me to play a show.
I don't know that I've ever met anyone with less musical ability than Mike Copeland. ~ John Floyd Killen, Founding Member of Floyd's Ordeal
I am a fan of every musical genre, however despite meeting Verdine White of Earth, Wind and Fire at the Viper Room in West Hollywood, I've had more luck meeting rock musicians than country, R&B, or hip-hop artists. Over the years, I've been fortunate to meet a few true blue rock stars such as Eddie Money, Brad Gillis of Night Ranger, Eric Martin of Mr. Big, James Hatfield of Metallica and the late/great Ronnie Montrose. I've even separately met four members of one of my favorite bands, Journey – Steve Perry (Scoma's in Sausalito), Jonathan Cain (Caesars Casino , Lake Tahoe), Ross Valory (Bank of America, San Ramon) and Neal Schon (Shoreline Amphitheater, Mountain View). I was once in a Las Vegas strip club (doing research) at the same time as Axl Rose and Duff McKagan of Guns & Roses, however, they were much too preoccupied for me to drop by to say hello.
Of those who I actually engaged in a conversation with, most were cordial yet distant. Steve Perry was hands down the nicest and most congenial and even invited me to join him for a short time at his table. I got the impression that he had a lot of free time on his hands.
Many have heard my story that during my sophomore year of college, at California State University, Northridge, I lived next door to a fun and charismatic girl named Paula Abdul. She was working as the choreographer for the Laker Girls and had aspirations of staging dance shows in Las Vegas. We hung out a fair amount, never dated, but were good friends for over a year.
Several years later, I was listening to a catchy pop song "Straight Up"on the radio and just about drove off the road when I heard the artist was none other than Paula Abdul. Upon reading her story in People magazine and being blown away by her physical makeover, I wrote her a couple of letters (±200) congratulating her on her success and wishing her well. Alas, there was never a response. Despite the restraining order, I did catch one of her shows and enjoyed it immensely. The boy band, Color Me Badd, opened for her just in case you were wondering. That's Badd with two d's.
In the summer of 2008, my wife and I made a pilgrimage to the Rock and Roll Hall of Fame in Cleveland, Ohio. We spent close to six hours roaming the halls and I could easily have spent six more just wandering all six levels of the 150,000 square foot cathedral. Highlights of our trip included the U2 3D concert film, the Bruce Springsteen and Pink Floyd exhibits and the numerous displays and concert footage. Recently, I visited the Country Music Hall of Fame in Nashville and thoroughly enjoyed that experience too. There was a fantastic Songwriter in the Round event with Pat Alger who wrote countless country songs with or for Garth Brooks, Trisha Yearwood, Lyle Lovett, Dolly Parton and Crystal Gayle. Alger performed many of his biggest hits and fielded questions from the audience, mostly me. To be honest, I enjoyed those two museums more than any Smithsonian in D.C.
I've seen close to 100 concerts at venues that ranging from the Cow Palace to Circle Star Theater to the old Winterland Ballroom. I've also been to the Hollywood Palladium, Irvine Meadows Amphitheater and Whiskey-a-GoGo in Southern California. I've seen U2, The Police and attended a Day on the Green at the Oakland Coliseum and enjoyed Pablo Cruise, Marc Cohn and Bobby Kendal of Toto at the intimate Firehouse Theater in Pleasanton.
I've sat in the first few rows for shows by Bon Jovi, The Who, Luther Vandross, Bryan Adams, Journey, Kiss, Ray Charles, Hall and Oats, Kenny Loggins, Kenny G, Foreigner, Def Leppard, Janet Jackson, Train, Maroon Five and Madonna. I've also sat in nose blood seats for shows by AC/DC, Styx, REO Speedwagon, Earth Wind & Fire, ELO, The Commodores, Bruce Springsteen, Elton John, Whitney Houston, Jimmy Buffet, Alabama and Bruno Mars. There were also unforgettable shows by Prince, Rod Stewart, The Eagles, Fleetwood Mac, The Jackson Five, and Van Morrison. You should've seen my concert t-shirt collection back in the day.
I, long ago, gave up hope that I would ever hear the words, "See you at band practice," or that I would perform on a stage in front of a live audience. However, thanks to the video game Guitar Hero, and living vicariously through my musician friends, there will always be music in me. #supportlivemusic.