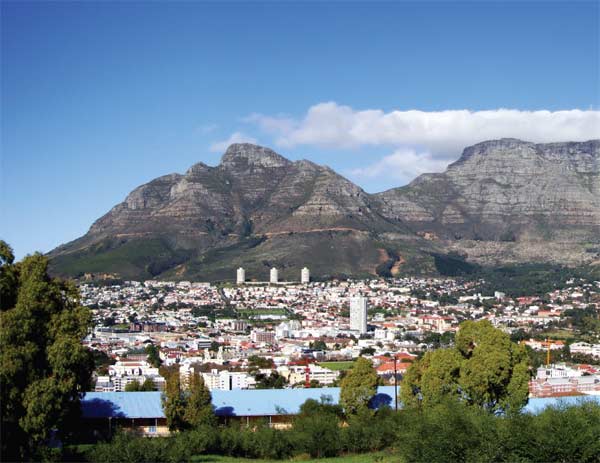 This writer is ecstatically proud to have but an infinitesimal connection to one of the provisional New Seven Wonders of the Natural World: Table Mountain, Cape Town's magnificent proscenium. I was born on the Oranjezicht slopes of Mother Mountain at the Booth Memorial Hospital, before suburbia crept up the cypress-shaded hillsides.
Table Mountain was voted a first-count provisional winner as New 7 Wonder of the Natural World on 11.11.11, by way of a global phone/SMS campaign. Results will be verified by New 7 Wonders in early 2012. The finalists are: Amazon River, South America; Halong Bay, Vietnam; Iguaza Falls, Argentina; Jeju Island, Korea; Komodo, Indonesia; Puerto Prince Underground River, Philippines; and Table Mountain, Cape Town, South Africa.
The majestic mountain, a true world wonder, is Pre-Cambrian period sandstone, with a 300 million-year genesis—a plateau that evolved over six million years of erosion. Table Mountain, the crown in the range, extends to the jagged Twelve Apostles on the back table; the Peninsula's spine to Cape Point. Two-mile wide Table Mountain proper is flanked by Devil's Peak to the east, and on the western flank, Lion's Head outcrop on Signal Hill. Cape Town, framed by a mountainous crescent, is one of the world's most picturesque cities near Africa's southern point, and the only terrestrial feature lending its name to a celestial constellation; Mensa, a galaxy seen only in Southern Hemisphere skies.
Table Mountain, where Cape Town now stands, was first sighted during the Age of Discovery by Portuguese explorer, Bartolomeu Dias in 1488, naming the stormy bay Cabo das Tormentas—Cape of Storms. Portugal's Henry the Navigator funded expeditions along Africa's coastline, but Dias was first to sail around the Cape opening Trade Routes. When passage to India was determined, King John III of Portugal renamed it Cabo de Boa Esperanca—Cape of Good Hope.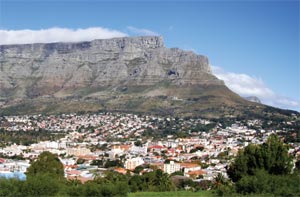 Reaching India was a 15th century quest; Columbus negotiated an Atlantic trade route for Spain, but foundering in doldrums; he found Caribbean shores instead. Dias had already beaten Columbus by four years, forging an alternative route to India, passing Table Mountain, and in 1498, explorer Vasco da Gama secured the trade route for Portugal. Navigators were unable to make landfall on treacherous rocky shores, becoming more mesmerized by the beckoning mountain. The windswept bay teamed with caravels; and many vessels crumbled on rocks, or were swallowed by roiling seas into a graveyard of sunken ships.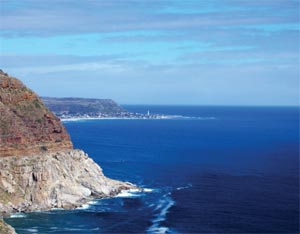 Antonio Saldanha reached shore — the first recorded European to climb Table Mountain in 1503 — lending his name to Saldanha Bay. One can only imagine the exuberance of the Portuguese mariner, having forged an untrammeled path to the top of the world, at the bottom of Africa.
For Capetonians, imbued with their homeplace history; there is no greater sunset on earth than the golden sun dipping into the curving horizon of twin seas. From vista points discerning sea colors emerge; where warm Atlantic Benguela and Indian Agulhas currents conjoin at Cape Agulhas, Africa's most southern point.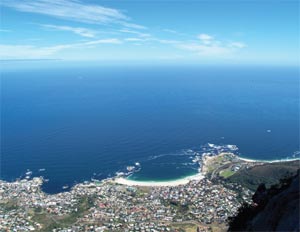 CAPE COLONY
In 1652 the Dutch arrived at Africa's Gateway, establishing a half-way supply station for Dutch East India Company's ships sailing to Batavia for silks and spices. Table Mountain's fertile slopes played an important role for pioneering Colonists when Jan Van Riebeeck established vegetable and fruit gardens on sunny gradients, planting citrus trees on the lap of the mountain stretching to Platteklip Gorge, and naming it Oranjezicht—view of the oranges.
Capetonians speak of their legend-rich mountain with affection—the Mother City's anchor of storied energy. The 3,563 foot plateau connects to Devil's Peak where hovering mists are attributed to Van Hunks, a pipe-smoking pirate and the devil. There are ghost stories too. Wandering souls, who once lived on the slopes, still haunt the mountain—the grey lady of Bree Street and spirits from the Castle. And there is the legend of the Verlaten Bosch ghost, Bush of the Forsaken. A man, said to have died of leprosy for playing a flute once owned by a mountain leper, still plays around silver leaf bushes late at night—whistling like the wind.
The Table Mountain range embraces Cape Town; cradling the natural amphitheatre in her rocky arms with breathtaking magnetic energy, as when the clouds come. Cooling sea winds propel a phenomenon of white billows, cascading along the spine from the back table, flowing misty fingers seeking gorge crevices, enveloping Mother Mountain with seemingly unreal orographic clouds—a tablecloth of white waves—a subliminal message that Mother Mountain lives.
Capetonians still halt to observe nature's phenomenal display of a creeping cloud formation over the table. They stop to witness again what they have seen a thousand times—awestruck by their beloved mountain, alive with its own kinetic energy as the monolith vanishes from view.
Rock alpinists and hikers on trailhead treks, with short warning, can become disoriented; lose footing when the sudden mountain mist rolls over. Even on a summer's day, it turns cold—seasonal gale force winds gust from the sea. People fraught with sudden peril, can fall from vertiginous cliffs. Spectacular Table Mountain radiates her mysterious energy; sometimes turning treacherous.
TABLE MOUNTAIN NATIONAL PARK
Table Mountain National Park, a protected World Heritage site, and Wonder of the Natural World, is literally within walking distance of upper Cape Town. The flora-rich mountain hosts a bio-diversity of over 2,200 indigenous fynbos plant specimens, more than all the United Kingdom combined. The indigenous silver tree, suikerbossie proteas, and other plants that thrive naturally in the Afromontane forest are protected; non-native trees are felled, allowing only intrinsic species vital to the ecosystem. Conservationists eradicate non-native flora and fauna, such as fast-breeding Himalayan tahr goats that escaped from a zoo, causing mutualistic imbalances. Fire-fueling eucalyptus, cypress and oaks, grown for wine industry casks, are felled to host a more mutualistic environment for snakes, tortoises, porcupines, mongoose, baboons, lizards, frogs and hyrax dassies. Gone to extinction, or Karoo plains are; the leopard, buffalo, quagga zebra and black-maned Cape lions, and the aboriginal Khoikhoi pastoralists who once lived on the mountain.
Table Mountain attracts millions of hikers and gondola riders; the 84-year cable system recorded its 20-millionth visitor last year. Once at the summit, there is no more spectacular panoramic view than bustling Cape Town and shoreline suburbs, where seas meet land—still a vital trading gateway to the world.
And on auspicious occasions, like seasonal festivals and Christmas Night, the mountain is illuminated—floodlights sending beams to her rocky bosom—Mother Mountain; Nature's Own World Wonder.
MY YEARS ON MOTHER MOUNTAIN
Fires are the mountain's greatest enemy; hillside dwellers are evacuated, homes gutted, people trapped by fast-moving infernos, fanned by 60-mph southeaster winds, hungrily consuming vegetation—scorchingly spectacular, stirring our secret pyro-maniacal tendencies.
I am deeply connected to Table Mountain; I was born and bred on her lower slopes. My childhood years were spent as student boarder at a sandstone Catholic convent on Devil's Peak nestled in the mountain's evening shadows. I had a constant front row view of her magnificence, and still devotedly cherish My Mountain; voted a Natural World Wonder. Fancy that!
The mountain caught fire one night, we girls were enthralled by the awesome danger so close to us; watching flames silhouette burning trees from high windows, the firestorm licking cypress-covered slopes, consuming everything like a fiery hungry monster. High winds whistled through the building cracks, smoke filled the dormitories. The nuns told us to pray.
Evacuees arrived, telling how bad it was. The sandstone school became a crowded refuge for strangers; it was all very exciting and dramatic, mesmerized by the scorching mountain. High winds finally died, brigades put out the rogue fires, evacuees left and we schoolgirls talked about it for years to come.
The mountain constantly brandished her incredible splendor within arm's reach; years in her evening shadows anchored me with a very powerful sense of place. From the playfield, I was starkly aware of her majestic presence–memorizing ridges, gorges, and iconic contours with my eyes, sketching her outline in my brain—now etched forever in my mind's eye.
I finally hiked to the summit from Platteklip Gorge, trekking the path, anticipating the thrill; ready to purge acrophobic fears and complete my quest. Dare this writer attempt to describe the sensation of my first summit in words? It was awesome. Up to then, I had only seen the mountain from below, but I knew the legends, and when I stood on the vertiginous edge, my insides somersaulting; the ecstasy was beyond words—I had reached my own personal Everest.
I went to the plateau summit many times in my youth, by cable-car and foot, but the most poignant trip was on the rear Kasteelspoort trail. I trekked with my friend Midge (also born on the mountain), specifically to bid farewell to our beloved Cape Town. We had booked ship's passage to England and were leaving the following Friday. My last journey before departure for Europe was emotional. Overlooking the most beautiful city, from the most magnificent mountain in the world, I was tearfully overwhelmed to bid Table Mountain goodbye.
As I embarked on a life of romantic wanderlust, I could only imagine what wonders lay ahead on my own horizon, bidding my mountain birthplace and family a bittersweet farewell, and that by year's end, I would turn twenty-one on the other side of the world.
Table Mountain was my last vision as the ship sailed northwest from Cape Town Harbor; the sentinel fading, vanishing into mist, swallowed by distance—the tearful departure from my homeland serving as a metaphor for a new life.
Two decades later I returned to Cape Town's Table Mountain; a quasi-pilgrimage lending renewed poignancy to my birthplace milieu, evoking daydreams of my youth. Today I celebrate Table Mountain's magnificence with the world, the storied marvel of South Africa's Mother City—Cape Town's own wonder of the natural world.