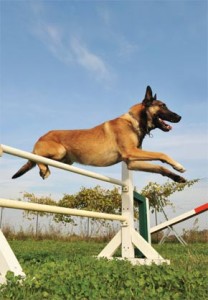 The Danville Police Department, besides having an impressive complement of Contra Costa County's finest, spearheaded by Chief Steve Simpkins, also has the devoted protection of two Patrol-Certified K-9 Unit super dogs that faithfully assist their partner/handlers in tracking and catching the bad guys.
I met the two Belgian Malinois shepherd dogs and their intrepid K-9 Cop partners, Officers Mike Ireland and Tom Rossberg while attending the 2012 Town of Danville Citizen Police Academy course.
The interactive instructional program, coordinated by Sergeant Jason Haynes not only builds bridges, but also familiarizes local residents with Police Department methods and the behind-the-scenes routines that support and protect our community, and the myriad of law enforcement challenges that face the officers in the field. Sergeant Haynes will conduct another popular and instructive Citizens Police Academy series in the fall.
It was coincidental that one of our instructors for the evening class, Officer Ireland and his 10-year old partner police dog Donna had just returned from a neighboring city emergency call. The hardworking canine cop had just sniffed out the place of an armed robbery, got an odor hit on the would-be robbers, and followed the scent trail to where the getaway car was parked. Top Cop Dog Donna is a super canine sleuth, who graduated from the KNPV Canine Academy in Holland, and is certified with honors.
Officer Ireland explained that K-9 Units are among the first to be called to the potentially dangerous situations; known as the "point of the spear." The most danger in any emergency situation is usually at the onset until the problem is evaluated and the perimeter contained.
I wasn't quite prepared for my excited admiration at meeting the two highly-intelligent furry Danville Police Department dogs, Donna and Chef, and after learning about their 500+ hours of Schultzhund protection-dog training in obedience, specific-object detection, handler respect and patrol work, I decided to learn more about the relatively unknown Belgian Malinois breed.
What I learned about the brave Super Dogs was eye-opening; their multiple abilities include the tracking of missing persons, tracking and taking down felonious suspects on Bark and Hold commands, or finding drug stashes within minutes. I researched the Belgian-bred working dogs, now popular in Europe and the United States, and doggedly discovered dog piles of surprises.
The social animals have a long working history with humans, first introduced in Belgium in the early 20th century as deterrents for police on the beat, and were later trained in nose work. The friendly dogs constantly show their need for human company, work-for-reward activities and playful socialization. In most cases they are loyal to their masters, and do not bite handlers or their families. They are hard-wired with unbounded energy, curiosity, the desire to please, and work for nothing more than verbal praise or the simple reward of a tennis ball throw-and-fetch game or rubber kong toy.
The Malinois breed is a cousin of the German shepherd, in that they are both sheep herders bred mainly for function over form. Their snouts and ears are black and their square-proportioned bodies have mahogany and tan short coats. The dams are 55-65 lbs., the sires 65-75 lbs., and their height should be 24 to 26 inches, about the same dimensions from breastbone to rump.
DOGS OF WAR AND K-9 UNITS
A 500-hour work-specific trained Malinois costs about ten thousand dollars, are usually in service for six to seven years, and have an expected 14-year lifespan. The dogs are not cross-trained in specific disciplines; such as bomb-explosive detection, drugs or dangerous substances detection, or human search and rescue. Each dog is trained for a specific job to prevent confusion, example; a search and rescue animal's tracking mission is more time-sensitive than that of a cadaver dog.
Military War Dogs, called MWDs, are trained in CTD, Combat Trackers; EDD, Explosive Detectors; or SDD, Specialized Small Dogs, such as the feisty nose-worthy Fox Terriers that work on submarines. SAR, Search and Rescue soldier dogs are specifically trained to find humans lost in battle zones or under bombed buildings.
The Malinois dogs have a high prey drive, protective traits and are very obedient, making them perfect for object-specific detection, police work and search and rescue. A detection dog is nose-trained to find objects by a sample smell and a search and rescue dog is able to track a person with the scent of a piece of clothing. Dogs can find dope, bombs, explosives, and people in dangerous situations, but the high-value working animals are never sent on suicide missions.
The K-9 Unit dogs have so proven their worth in the field, that in recent years, the New York City Police Department has cut their manpower and doubled the ranks of the canine units. The super dogs also play a significant part in airport security.
The Malinois' claim to fame is that they are obedient, alert, active and happiest when working; they do their job well to please and have a high drive to receive a reward. They may show some neurotic behaviors if they do not get enough exercise and stimulation, and they need constant obedience training for new, challenging tasks. They have supersonic hearing, and as detection dogs, their glory noses have a super sense of smell with olfactory factors 250 times stronger than humans.
When police dogs, certified in narco-detection, are set to sniff out drug stashes, they can differentiate multiple odors such as marijuana, methamphetamines, heroin and cocaine, even though the drug dealers may have attempted to confuse the super sniffers by camouflaging drugs with coffee beans, air-fresheners or fabric softeners.
The dogs' noses can so powerfully detect specific odors that they can even isolate and identify single compounds within a scent—like defining the individual spices that season a pot of minestrone soup, or categorizing the multiple ingredients on a single pizza—one at a time. The sniffer dog squads can smell out a single odorous needle in a giant haystack, and their super noses never make mistakes, even when identifying explosives, firearms, fire accelerants, narcotics or finding a drowning person in moving water.
The K-9 Unit dogs are considered such important assets to the Police Force that many canines are sworn officers and have their own ID numbers and badges. An attack upon a police dog can have the same serious consequences as the attack on the person of a police officer. According to California Penal Code 600, the statute states that anyone who willfully tries to kill or inflict bodily harm to a service animal—horse or K-9 Unit Police dog—is committing a felony punishable by fines and prison.
In potentially dangerous situations the dogs are fitted with ballistic protection vests. In many cases, if a beloved police dog is killed in the line of duty, it is given a full honors funeral as a loyal and dedicated member of the Police Force.
SUPER WORKING DOGS
So where else do these super dogs work? What other daunting tasks are they given? Where do their strengths lay when it comes to working for a living?
In short, the extraordinary Belgian Malinois are Bionic Super Dogs. It was one of these fabled furry four-legged fabulous members of the MWD Elite Canine Team, who, working with Special Ops on Operation Neptune Spear, was the first paws-on-the-ground rappelling out of the high-tech Stealth Black Hawk helicopter, and first into the Abbottabad compound to take down the world's highest-value-target, Osama Bin Laden.
The elite canine units are an integral part of the legendary Navy Seals most impressive arsenals. Soldier dog Cairo, canine sniffer extraordinaire, stealthily led the raid with the Navy Seals into the bull's-eyed building, checking for explosives, and then like a night jackal, giving a silent all-clear to proceed to the specified target.
We know how that 40-minute glorious take-down raid ended, and the incredible bravery and heroism of the 24 elite Navy Seals. I wonder how the Super War Dog Cairo was rewarded for his courageous work with the Navy Seal heroes in bringing down the most hunted man on earth. My best guess for the canine's work-for-reward job would be a lifetime supply of tennis balls and a giant rubber kong toy!
The Malinois shepherd dogs are so obedient, intelligent, trainable, and said to be able to do ten men's work, that the four-legged warriors are employed in the U.S. Military Forces, Navy Seals, Border Patrol, Police Force Drug Investigations and Bomb Squads, Secret Service, CIA, FBI and SWAT Teams.
The Armed Forces call upon the services of the intrepid canines in multiple disciplines, and it is estimated there are about 4,000 such soldier dogs in their ranks. They are trained for many jobs, including the Airborne dogs that jump from planes alone or with handlers in parachute deployments from as high as 30,000 feet.
The MWD units deploy bionic dogs of war that parachute into dangerous situations wearing canine protective night goggles and tactical assault K-9 Storm Vests with infrared night-sight cameras and intruder communication systems with earbuds to hear their partner's commands. The dogs parachute from high-tech helicopters; their legs running before they hit the ground, land acrobatically on rough terrain, and immediately rappel into action. Canine tactical assault vests protect the dogs against shrapnel, gunfire and knives, making them truly super-natural soldiers.
DARING DOGS OF DANVILLE
The Belgian Malinois protective dogs are daring, loyal, and likeable, unless they are commanded to attack and subdue identified targets. Their 600-pound jaw pressure can do just that. According to Officer Ireland, most men are more afraid of dogs than bullets; under command, dogs can disable most bad-guys in seconds. In short, with a handler's hand-voice bite-hold commands, a dog can single-footedly stop a perpetrator in his tracks.
The Danville Police K-9 Units are valued assets to the department, while adding their playful canine expertise and furry fun to the job of keeping the peace in the town of 44,000 residents. Officers Ireland and Rossberg are dog handlers extraordinaire who love their loyal best friend canine partners, Donna and Chef, who go home to their families after working their shifts.
The Malinois shepherd dogs are pinnacles of personal protection with a loyal willingness to work and please, adept with endurance and remarkable courage. They stand bravely foursquare and elegant; ears pricked for the happy shrieks of children or the hand-voice commands from their human colleagues, with tails wagging and mouths open in unmistakable canine smiles.
Officer Ireland's Top Cop Dog Donna was honored at her retirement ceremony for valiant service to the Department by Chief of Police Steve Simpkins at the July 3rd Danville Town Council Meeting.
Contact www.danville.ca.gov, ssimpkins@danville.ca.gov, Phone: 925.314.3701