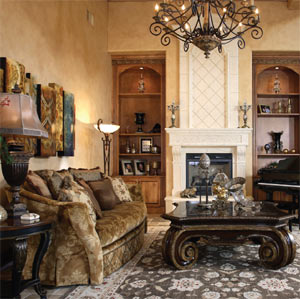 Most of us have walked into a home that was so cozy, comfortable and inviting that we instantly felt at home. However, many of us struggle to recreate the same feeling in our own home. There are many things universally thought of as cozy additions to a home such as a crackling fire, homemade bread and mugs of hot chocolate. I have outlined a few less obvious ways to make your home more inviting to not only your guests, but also your family.
Nobody loves a home that seems too sterile. Your home doesn't need to be perfect. Perfect homes aren't relaxing and they often make people feel uncomfortable. Remember, your guests are there to see you and just want a relaxing visit with you. Your home should look lived in. Leave your book on the ottoman, open sheet music on the piano, a bowl of candy or nuts casually displayed, and of course display personal photographs.
Your home should smell inviting. Stick to as many all-natural products as you can. For example, instead of plug-in chemical air fresheners use potpourri, spiced cider or citrus slices simmering on the stove, or lightly scented burning candles to make your home smell cozy. In winter, spicy and earthy smells such as pine boughs or pine cones dipped in cinnamon are preferable. Use fresh flowers, real greenery and house plants instead of artificial. Be careful to use unscented candles on the dinner table as strong scents will interfere with the taste of food. Be aware of cooking odors; have the pot stickers tomorrow if guests are coming tonight. Don't forget the nice smelling soaps in the bathroom.
Nothing is more inviting than the soft glow of warm light. Many of our homes have plenty of light in the form of ceiling can lights. In rooms other than the kitchen, leave those harsh overhead lights off and use floor lamps, table lamps and burning candles for lighting. Also, using lamps will draw your eye down and help make a room with a tall ceiling feel cozier. Additionally, hang a chandelier in the center of the room just above head height to make a living room with a tall ceiling feel warmer. A small table lamp on the bathroom counter or étagère will make it more inviting.
Use soft, natural fabrics when possible with seating that has plenty of cushiony comfort. Bring in a variety of textures such as rough textured wood, smooth stone, distressed iron, shells in a bowl, natural branches in an arrangement, etc. Juxtapose those textures with a plush rug, velvet pillows, cashmere throws, all which invite you to touch. Be sure to leave a throw draped over the ottoman, back of the sofa, foot of the bed.
Repaint an uninviting room with warmer paint colors or add an accent wall. White walls are very off-putting. Yellow based neutrals, bronze, mocha, etc. will instantly make your room more inviting.
Use window treatments to soften your home. Use curtains or valences to hide the edges of window casings and soften the walls. If you have high ceilings it is especially important to make sure you have plenty of drapes to soften an expansive wall with a large window.
Always have soft music on if you are expecting guests. Few things are more awkward than a deathly silent home. Leave the television off, it offers distracting noise instead of a relaxing backdrop for conversation. If the windows will be open, turn on the water fountain or hang a wind chime away from the house for a soft distant jingle.
Finally, take a minute to look around your space. A décor that is too sparse is hard to make cozy. However, the opposite is also true. Having too much in a space will cause visual clutter. It is much more pleasing to the eye to have an uncluttered space with a few vignettes than a smattering everywhere of random things. Use fewer, more important pieces.
Most important of all, remember your guests will notice your fresh flowers, personal photographs and the nice smelling soaps in the powder room more than they will notice a perfectly clean home. Your home will be more inviting if it feels authentic and is a reflection of you and your personal style. And as always, a relaxed host and/or hostess is most important of all.
About the Author: Cindi L Stephenson is a Senior Interior Designer at J. Hettinger Interiors in Danville. You can see Cindi's portfolio at www.jhettinger.com P 925.963.2147