April just happens to be National Poetry Month and here at ALIVE, we want to showcase our local poets. With that in mind, we are calling for poetry submissions for what we hope will be our first annual poetry contest.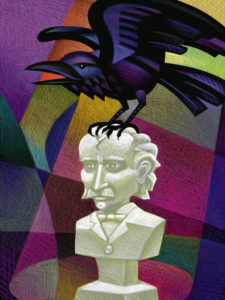 The guidelines for our first go at this are simple:
We will award a $100 Diablo Jewelers gift certificate to the winner in each of two categories—Young Poets, ages 12-17, and Adults, 18 and older.
Anyone within ALIVE's distribution area is eligible (if you're reading this, like to write poetry, and are at least twelve years old, you can enter).
You may submit up to three poems, and there is no cost to enter.
You may send your poem(s) as WORD file attachments by email to info@aliveeastbay.com, or via US Mail to ALIVE Magazine, 3200-A Danville Blvd., Suite 204, Alamo, CA 94507.
Previously published work is okay, though please note where and when it was previously published, along with your submission.
All submissions must be received at our office in Alamo no later than March 20, 2017.
Shorter poetic works are preferred over longer poems, partially due to publication restraints. Sonnet length is a beautiful thing—14 lines, though sophisticated Haiku (3 lines of 17 syllables in a 5-7-5 format) may be chosen. On the other hand, so might longer poems of merit; however, there is a 40-line limit.
We love surprising, creative, unexpected word art; we don't love clichés or narratives with overt messages. We are looking for "music and mystery" in the lyric; whole lives in the images.
By submitting your work, you are granting us permission to publish it in ALIVE Magazine, at our discretion, however authors will otherwise retain copyright to their work.
Please include complete contact information with each poem submitted, including name, address, email, and phone number.
The winning poems will be published in the April issue of ALIVE, along with other selected "poems of merit."
On your mark… get set… ready… write!