Most farmers' markets are only getting started this month, "setting up shop" in asphalt parking lots across the United States. But here in Danville, where our farmers' market thrives year 'round, we're merely picking up speed. Tender young veggies abound, along with a seasonal kaleidoscope of locally-grown sweeties: look for plump apricots, luscious cherries, and juicy cantaloupe. And strawberries. O, those beautiful berries!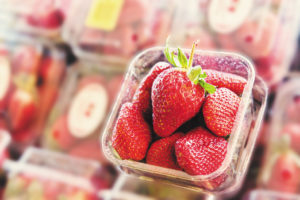 Some foods are so perfect in their natural state that it's a shame to mess with them too much. Take farm-fresh strawberries, for instance. Oh sure, you can boil them up for jam or jelly. Or toss them with rhubarb for a rosy pie filling that tastes of spring. You can bake them into an airy soufflé or freeze them into icy sorbets. All very nice. Or you can just grab one by its little green cap and pop it into in your mouth…and the taste sensation probably won't be any less spectacular.
But this month ushers in times—like a Memorial Day cookout, a bridal shower, or graduation party—when you feel the urge to gild the lily and showcase spring's perfect strawberries in an original way… without spending hours in the kitchen. The following recipe could be the answer.
This two-part spread is a study in contrasts: warm, oozy cheese topped with cool, sweet-tart strawberries, made even more irresistible with the bite of fresh ginger, the mild heat of jalapeño, and the refreshing sensation of lime and mint. Best of all, it's a snap to make, and feeds a crowd.
Instead of baking the cheese as directed in the recipe, you may choose to make your life easier still by simply spooning the salsa over a room-temperature wheel of brie or a log of California goat cheese.
Alternatively, double the salsa recipe and serve it as a dip for pita or tortilla chips, or alongside a plain omelet or cheese quesadilla. It also makes a tasty condiment for grilled or roasted pork or poultry. More adventurous souls will spoon it over chocolate ice cream for dessert. It's all good.
There's no need to wait for a special occasion to make this, however. This versatile, low-cal salsa is equally delish served over plain yogurt or cottage cheese.
Baked Brie with Fresh Strawberry Salsa
Finely grated zest and juice of 1 lime
1 teaspoon finely grated fresh ginger
1 teaspoon local honey
1/8 teaspoon fine sea salt
1 small jalapeño chili pepper
1 1/4 cups hulled and coarsely chopped strawberries (about half of a 1-pint basket)
1 or 2 green onions (scallions), thinly sliced
1/4 cup thinly sliced fresh mint leaves
1 (5-inch) wheel of brie (about 15 ounces)
In a bowl, mix together the lime zest, lime juice, ginger, honey, and salt.
Wearing rubber gloves, remove the stem, seeds, and ribs from the chili pepper and chop finely. Add to the lime mixture; then gently stir in the strawberries, green onion(s), and mint to combine. Cover and refrigerate for at least 45 minutes (or as long as 6 hours) to blend flavors. This makes a generous 1-cup of salsa.
About 45 minutes before serving, preheat the oven to 350 degrees. Place the cheese on a heatproof serving dish and bake for 25 to 30 minutes, until the wheel of cheese is soft when touched in the center but still holds its shape. Spoon the chilled salsa over the hot cheese and serve with plain unsalted crackers (water biscuits), wheat biscuits, or baguette slices. Serves 10 to 12 as an appetizer.
Berry Good Things to Know
–A shiny berry is a fresh berry. Once picked, strawberries lose their natural sheen in a matter of days.
–Locally-grown berries are inevitably more flavorful and have a more succulent texture than varieties grown for shipping.
–Fresh green caps, intense perfume, and vibrant, uniform color are other qualities to look for in strawberries. Avoid those "white shoulders" that mean the berries were picked before their prime. Also remember that bigger is not always better!
–When stored properly, farm-fresh strawberries can last 1 week or longer in the refrigerator. Here's the secret: Line a plastic container with a paper towel to absorb moisture. Gently pile in the unwashed strawberries with their green caps intact. Top with another paper towel, seal with an airtight lid, and store in the lowest part of the refrigerator.
–Do not rinse strawberries or remove their green caps until just before using. Rinsing berries removes their naturally protective outer layer; and their caps prevent water from soaking into the strawberries, diluting the flavor and altering their texture.
–To clean strawberries, place in a colander or large sieve and rinse quickly under a gentle spray of cold water. Pat dry with towels; then remove the green caps, if desired.
–To hull strawberries (i.e., remove the green caps), use the sharp tip of a paring knife; the pointed end of a swivel-bladed vegetable peeler; or a strawberry huller—an inexpensive tweezer-like gadget available at most cookware shops. This removes not only the leafy green cap, but also the tough little core beneath it.
–For best flavor, eat strawberries at cool room temperature.
–1 cup of halved raw strawberries weighs in at around 49 calories. They are a good source of vitamin C, and also contain potassium, iron, and folic acid.
The Danville Certified Farmers' Market, located at Railroad & Prospect, is open every Saturday, rain or shine, from 9 a.m. until 1 p.m. For specific crop information call the Pacific Coast Farmers' Market Association at 1-800-949-FARM, or visit their web site at www.pcfma.org. This market is made possible through the generous support of the Town of Danville. Please show your appreciation by patronizing the many fine shops and restaurants located in downtown Danville. Buy fresh. Buy local. Live well!