Does music play a role in national politics and especially in the political conventions of the two major parties in America? The answer is a resounding, yes!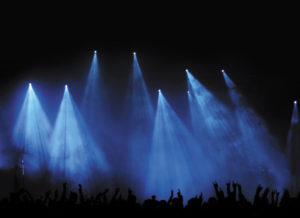 Music plays a big part in both political parties, in the candidate's conventions and in their individual campaigns for office. Music used in politics can be influential in supporting a political party or candidate; or it can be used to bring out the negative aspects of a political doctrine or candidate.
Clever spin doctors try to find music and lyrics that either enhance or detract from a candidate. If possible, they find music that advocates a partisan theme or opinion, making sure that it is primarily presented through radio and television. "It is not clear to what extent the political messages in and around music motivate fans, become a catalyst for discussion or function aesthetically," said Pedelty, and Keefe. "Given the right historical circumstances, cultural conditions, and esthetic qualities, popular music can help bring people together to form effective political communities."
In years past, the house band provided most of the music to introduce speakers and played music during pauses in the flow of a convention. There is always a need for music, such as the National Anthem, played usually at the start of conventions.
In more modern times, celebrity musicians are the norm rather than a house band.  These singers and musicians are usually very supportive of the party and presidential candidates. The nature of today's music is usually pop and often rock oriented. Pre-recorded music is nearly always present.
Records indicate that music was present at early conventions dating back to 1860. During 1872, at the Republican Convention in Philadelphia, bands were out in the streets rallying people to get out the vote.  At the convention the band played a series of patriotic songs featuring, Hail Columbia, The Star Spangled Banner, Yankee Doodle and the Battle Cry of Freedom. 
After the last piece, the crowd was on its feet with excitement and great enthusiasm. These songs were followed by: The Loyal League Initiation Hymn and the March to the Sea. Hail to the Chief was used to introduce the speaker to the convention. The New York Times reported that in the Republican Convention of 1888 in Chicago, the crowd was united in a rousing rendition of Marching Through Georgia.
Traditionally, the Democrats choose music and artists that appeal to a more youthful, liberal group; as opposed to Republicans who present music identified with older people that are usually more conservative.
In modern political conventions the media, more specifically, the television media, is playing a much more dominant role than ever before.
None of the media-driven elements of a convention is more prominent than the change of daytime activities to prime time hours of the evening.  This, of course, was designed to significantly increase viewer coverage. Consequently, music became even more important to introduce and enhance candidate's recognition and appeal.
Another aspect of music at party conventions is the question of the legality of using music without permission.  Although it may displease some composers or artists who actively object to a party or candidate using their music; the Christian Science Monitor stated, "While the use of famous  songs by political campaigns at live events may displease the musician, it is likely not a copyright violation."
Apparently, if a venue has a general performance license and is a live performance, then it is considered legal, said Michael Carroll, a law professor at American University in Washington D.C.
Some well-known songs used by politicians at conventions and elections are:
Happy Days Are Here Again, by Milton Ager (music) and Jack Yellen (lyrics), was the theme song of Franklin Roosevelt and the Democratic Party. High Hopes, by Sammy Cahn, was used by John F. Kennedy. Born in the USA, by Bruce Springsteen, was Ronald Reagan's campaign song. Don't Stop, by Fleetwood Mac, was Bill Clinton's song. I Won't Back Down, by Tom Petty, was George W. Bush's campaign song. Eye of the Tiger, by Frank Sullivan, was used by Newt Gingrich. Born Free, by Kid Rock, was used by Mitt Romney. Signed Sealed Delivered I'm Yours, by Stevie Wonder, was Barack Obama's campaign song You and I, by Celine Dion, is Hillary Clinton's song We Are The Champions, by Queen, is Donald Trump's campaign song.
The importance of music to enhance political campaigns cannot be measured. The identify it gives the candidate and the campaign becomes recognizable by the public when hearing the music. Without the music in political campaigns the anticipation, emotional effect, drama, fun and tremendous excitement would be missing.
Please submit your questions and comments to banddirector01@comcast.net Visit our website at www.danvilleband.org for up-to-date information about the Danville Community Band.
_______________________________##___________________________________