One of the main traditions of the holiday season is Christmas music and the sound of bells. Bells are often one of the predominating sounds in music during this lovely time of year.
Most people in western cultures are familiar with, or have at least heard, the many Christmas songs, sacred and secular. Throughout the entire Christmas season carols and other seasonal music is heard almost everywhere; in churches, stores, malls and even in elevators.
Many Christmas songs have bells in their titles and lyrics:Carol of the Bells; I Heard The Bells On Christmas Day; Jingle Bell Rock; Silver Bells; With Bells On; Come On Ring Those Bells and the most famousone of all, Jingle Bells.
Jingle Bells was written by James Lord Pierpont (1822-1893). It was published in 1857 with a different title – One Horse Open Sleigh. Apparently it was used originally as a drinking song at social gatherings. It is without a doubt, a most favored song and it is sung by almost everyone during the Christmas season. Jingle Bells is not only an American song but is sung in many languages and countries worldwide.
Bells date back to ancient antiquity and were found to be used in Jewish temples during that era. Some of the earliest bells, found in China and Egypt, date from 1,000 BC and were made of bronze, silver and gold. Early uses were magical and ritual, not necessarily musical.Bells were also used to accompany ritual dances and used in religious ceremonies.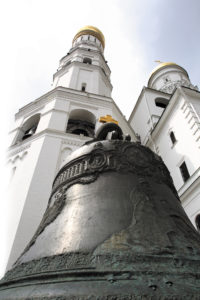 Bells are made in different shapes and sizes, including rectangular and square. They are usually struck from the outside with a hammer or from the inside with a clapper. They were historically made of metal and sometimes even made of wood.
The Tsar Bell is the largest bell ever made and is displayed in Moscow's Kremlin. It was cast in 1733, weighs 432,000 pounds and measures more than 22 feet in diameter. This giant bell has never been rung. Some bells from France and Germany weigh from 20,000 to 40,000 pounds. Large modern bells, often used in churches and university campuses, may weigh from 5,000 to 15,000 pounds.
The use of bells in churches can be traced to the 6th century in Tours, France, circa 560. In England, large church bells date back to the 10th century.Christian churches use bells for many occasions. They often announce the time for worship and are used in weddings, funerals and other services. An inscription found in ancient bells attributed to monks reads: "I praise the true God. I call the people, I assemble the clergy, I bewail the dead, I dispense storm clouds, I do honor to feasts."
In earlier times, in continental Europe, church bells were sounded together producing a rather confused sound; some called it cacophony. Then in England, they began ringing several bells in succession to produce a melody. This type of bell placement is called a carillon. This set of tuned bells is designed for a belfry or tower.
The Campanile (a bell and clock tower) on the campus of the University of California at Berkeley, is one of the most famous landmarks in Northern California. Inside the tower is a musical instrument or carillon. It is a set of 48 cup-shaped, bronze-cast tuned bells, attached to a keyboard with levers and wires that activate a metal clapper inside the bells.
Bells became the symbol of the wide-spread rise of Christianity. "The bell… praised the advent of Christianity into a world of strife," wrote McGehee and Nelson in their book, People and Music.
Over many centuries, bells have been used in Jewish celebrations. Bells were sewn on the Hebrew priest's vestments for their protection. The sound of bells symbolized the music of water and represented thunder and lighting. Music is used at Hanukkah more than other Jewish holidays.
Hanukkah, known as the "Festival of Lights." means dedication in Hebrew. It is celebrated over a period of eight days. This festival marks the rededication in 164 BC of the temple in Jerusalem.There are many songs connected with Hanukkah but the three most popular are: Ma'oz Tzar (Stronghold of Rock) The Dreidel Song and Oh Hanukkah Oh Hanukkah.
In this era of modern technology the bell has come a long way. Digital systems produce true bell sounds with no moving parts. Our modern world has door bells; telephone bells; intercom system bells; electronic church bells and alarm-clock bells and watches, just to name a few.
The sound of bells are very effective for calling communities together for general alerts, special announcements and ceremonies, including dire warnings of bad things to come, such as earthquakes, fires, floods and other disasters.
We have hand bells; bell choirs; bells on children's shoes and clothing; bells on jewelry; bells on animal collars on cats; dogs; cows; goats and sheep. We have school bells, bells used for fire alarms, police alarms and ambulances and even at some stop signs. And don't forget dinner bells and Santa's sleigh bells!
Percussion musicians in bands and orchestras use bells; and of course, every December we enjoy hearing bells making beautiful music at Christmas time. Almost everywhere one goes you may hear bells of some sort used for many purposes.
So next time you hear a bell think about how far the little bell has evolved. It certainly has added a lot, not only to our musical environment but it continues to be used in many creative and different ways.
Here's wishing you a Wonderful Christmas, a Happy Hanukkah and a Very Happy New Year! "Ring those bells!"
Don't miss "Songs of the Season," The Danville Community Band's annual Christmas Concert, Sunday, December, 11, 2016, 4:00 p.m. Community Presbyterian Church,222 W. El Pintado Rd. Danville. Free concert and parking. Please submit your questions and comments to banddirector01@comcast.net. Visit our website at www.danvilleband.org for up-to-date information about the Danville Community Band.