If one has a real passion and love of music and wants to make it their life's endeavor, it's important to know where to go to study music. A place of study should be chosen that will best provide the knowledge, skills and resources to help them succeed in the very challenging world of music.
One of the biggest decisions, both parents and high school students make, is selecting a good music school, college or conservatory. These schools are geared to certain types of music disciplines including classical, contemporary, and jazz.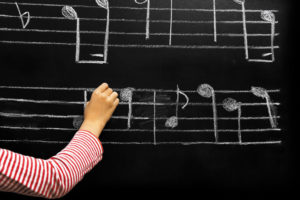 Along with emphasis on the types of schools available; course offerings of specialization within the department is very important. Most schools offer classes in musical instruments; voice training; conducting; composition; musicology—the study of music history and literature; all aspects of music theory and music education i.e. training of future music teachers.
University Music Classes
Many university music departments place more emphasis on the study of music as an academic pursuit rather than on the more practical aspects of performance. Almost all university music departments have performing ensembles in orchestra, band, both concert and jazz, and choral ensembles, as well as chamber music and often opera.
Choosing a college or university music department over a conservatory school of music will generally lead to a more broad education, as in liberal arts. The student would include classes in other disciplines rather than concentrating just on music classes. There are numerous excellent college and universities with outstanding music programs.
The Jacobs School of Music at Indiana University in Bloomington, Indiana, has an excellent reputation and ranks among the top music schools in the nation. It was established in 1921 and is the largest accredited music school in America. Only 25 percent of applicants are admitted. There are 180 people on the faculty, many with national and international reputations. Admission to the school is by live or recorded audition. They offer bachelor's, master's and doctoral degrees.
The University of California, Berkeley, (my alma mater) has an excellent department of music. It offers a comprehensive curriculum that includes composition, history and literature, arranging, conducting, and instrument instruction in strings, woodwinds, brass and percussion.
It also had a music education component that I chose, because I wanted to be a teacher and eventually a college professor. Unfortunately, they no longer have the music education program. Students who want to be a music teacher have to go elsewhere to get a teaching credential. The department is exceptional in musicology and composition. They offer bachelor's, master's and doctoral degrees. I was one of the last students to earn a Ph.D., in music education there.
Music Conservatories/Music Schools
If a student is extremely talented and wants to go into a solo career or play in a major symphony orchestra, he/she would most likely choose a conservatory experience and concentrate in depth on their instrument or voice.
The Eastman School of Music at the University of Rochester, in Rochester, New York, was founded in 1921 by George Eastman of Eastman Kodak fame. This institution has bragging rights of being ranked first in United States music schools by U.S, News and World Report. Locally, former Eastman graduate student, Robert Williams, said. "Having all students and all classes, lessons, and rehearsals within one building makes for a community of convenience, cooperation, and conviviality, where friendship and fellowship happens." Williams is conductor of the Pleasanton Community Concert Band and plays French Horn with the Danville Community Band (DCB).
Eastman is a private school where almost all students receive scholarships. It is quite selective and emphasizes a comprehensive curriculum. The school has over 130 faculty. All first year students live on campus.
Principle Horn for the DCB, Christine-Ann Immesoete, said, "The Eastman School of Music, and the rest of the University of Rochester, continue to be the shining jewel in the crown of Rochester, and all of western New York." Immesoete, like Williams, earned a master's degree from the Eastman School of Music.
Juillard School of Music is located at Lincoln Center Plaza in New York City. Founded in 1905, it is considered one of the finest music schools in the United States. Admittance is based on several factors including GPA, talent ability, interviews and recommendations. It has a very favorable student to faculty ratio of 4:1. Most classes are less than ten students. The first year students live on campus. The world famous Lincoln Center is very close to the campus.
Internationally known, concert pianist, Daniel Glover of San Francisco, has performed in 42 states and 22 foreign countries. Glover holds a master's degree from Juillard, along with many other famous artists in America and abroad. They offer bachelor's, master's and doctoral degrees. Interestingly, 89 percent of their students are from out of state.
The New England School of Music in Boston, located near Boston Symphony Hall, was established in 1867, making it the oldest private independent school of music in America. They have a unique five-year program with Harvard and Tufts Universities, where students can get a double degree. Admission to the conservatory is by live audition. Popular majors include composition, strings and jazz and they offer a prestigious chamber music program. Bachelor's, master's and doctoral degrees are offered and it is also a training ground for the famous Boston Symphony Orchestra.
The Peabody Conservatory of Johns Hopkins University, is in Baltimore, Maryland. It is the oldest music school in the country, dating back to 1857 and was founded by George Peabody. The school emphasizes a comprehensive program in many aspects of music training. It is affiliated with the John's Hopkins University Preparatory School for school age children. The tuition is high but they have a financial aid package.
The Curtis Institute of Music located in Philadelphia, Pennsylvania, was founded in 1924 by Mary Louise Curtis Bok. It is one of the most selective schools in America, however, all students attend on full scholarship. They have only a 4.8 percent admission rate. It was formerly a training ground for orchestral musicians. Admission is by live audition. Curtis graduates are in many symphony orchestras throughout the country.
Oberlin College Conservatory of Music is located in rural Oberlin, Ohio, southwest of Cleveland. Enrollment is fewer than 600 students, 25 percent of applicants are accepted and 90 percent have tuition assistance. They also offer a five-year program with Oberlin College. The students earn a bachelor of arts from the college and a bachelor of music from the conservatory. They are well known for their programs in contemporary and baroque music.
Locally, the San Francisco Conservatory of Music, founded in 1917, is one of the least competitive institutions with a 40 percent acceptance rate and 95 percent of students receive financial aid. It is a relative small school with about 450 students. Their graduate chamber music program is rated excellent.
The Berklee College of Music is located in Boston. It was founded in 1945 and is one of the largest music schools with over 4,000 students. Its emphasis is on contemporary music and their Jazz Program is one of its strong points.
These are only a few of the many excellent schools, conservatories and university departments of music one can choose. The most important thing to remember is what program will best meet the needs and desires of the student, who will hopefully reap the benefits of a good musical education. If you are going out-of-state, public state supported colleges will charge an out-of-state tuition that is substantially higher than in-state tuition. Private schools charge about the same whether one is a state resident or not. Good luck in selecting the right school for you.
Please submit your questions and comments to banddirector01@comcast.net. Visit our website at www.danvilleband.org for up-to-date information about the Danville Community Band.