Pho is to me as "meat in tube form" is to Anthony Bourdain—top billing! Therefore it is not out of the ordinary to find that this is the second pho restaurant that I am reviewing in the last year.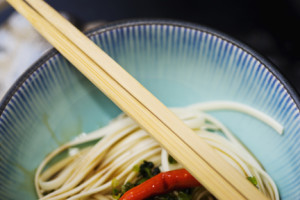 My last article on Vietnamese Food came from a place that I call "my place;" that is to say that they know my wife and me there. That was the first restaurant I went to when I returned home from Africa. They have great pho!
This article is based on other aspects that transcend menu fare, and are applicable to anybody that wants to run a successful business.
Pho Asian Bistro in Dublin is a small, unassuming one door/one window establishment, situated in a shopping center where every other building is mammoth in comparison. The astronauts could easily shop at Hacienda Crossings from the comfort of orbit. Not only that, but the restaurant is tucked away down a side alley, which actually plays very well to the Vietnamese authenticity, as many of the best noodle places in Hanoi and Ho Chi Min are tucked away as well. Split the alley between Mega-Fudruckers (also a past article nod) and Cold Stone Creamery and look for the bamboo out front.
Once inside you will not be hard pressed to find Toan Phung. He is the owner, and wears a smile that after multiple visits has proven to be un-removable. Toan is the type of owner that culinary classes should bring their students to, simply to watch for a day. He waits every table, pays attention, know what he's talking about (for they are his creations) and affects people deeply with his passion. What is not taken into consideration for the lay diner but has always impressed me tenfold is that by simply doing the above mentioned actions, he is controlling his labor costs, assuring the continuity of his brand, and providing his diners with a reason to come back. This is what sets this place apart.
All too often I hear of new restaurants popping up and I will go to discover them, and unfortunately, all too often the owner is not in and there are children (a relative term) being the face of the newly opened eatery. The owner has committed what I consider the first mistake of restaurant ownership and one that could prove to be a nail in their coffin. The internal dialogue goes like this-
"I love to eat out, so I will open a restaurant." Or "I want to free up time in my personal schedule so I will open a restaurant."
No dice! Does not work like that. Walnut Creek Yacht Club has been the top "award winning" seafood restaurant this side of San Francisco for 16 years because the owners are there EVERY DAY and "touch" almost every table that comes in! That is what it takes, and Toan knows this.
By now, Toan's food speaks for itself, and I am assuming that he has built up enough regular business to comfortably come in only a couple times a week, but this will never happen. Toan is not working with autopilot as his goal. He is working because he knows he has been blessed with the opportunity to do something that he loves to do and provide a decent life for himself and anybody that relies on him, and that is the goal. That should be the goal.
Let me tell you as well, the pho here is PHENOMENAL. The broth, which is the foundation for any Vietnamese soup and usually handed down from another generation, holds that old worldly, 100+ year, "made with love," flavor. It lands on the all-spice side of broth that some places either have or do not. I (of course) love both.
But it is Toan's attention to the individual patron that has made me a believer.
4920 Dublin Blvd. #420 (Hacienda Crossings)