Took a sentimental journey to renew old memories. Visited the Normandy beaches of France. Watched the names tumble by – Omaha Beach, Utah Beach, the 82nd and 101st Airborne Divisions, Caen, Dunkirk, Bayeux, Cherbourg – on and on they rolled. No, I wasn't there when they became household words. Too young, just finishing high school. But every day on the radio, in the newspapers, and on a big map at school and at home, I marked the locations with red lines and stars.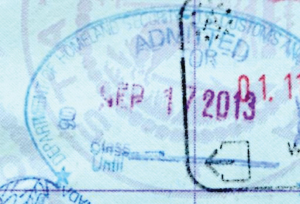 So I went back this fall, and once again studied the terrain. Walked the sandy beaches, threaded my way through the rows and rows of white crosses and Stars of David – and remembered.
And out of these nostalgic remembrances came, of all things, a very private and personal Christmas story. I ask you to bear with me for one month and forget about passport stamps. Travel back through the years to salute the life of one of the lucky ones who came home to build a better, stronger life here in America.
My story is about a friend who I will call Jim. Jim was born and raised in the suburbs of Chicago during those nasty depression years. Jim's dad was a plumber by trade, but similar to most men in those years he did not have a steady job. Each day he would carry a sign saying "Professional Plumber for hire," and he might be picked up by someone with a plugged drain or a leaky faucet.
During Jim's twelfth year or so, his father got a great two day job and was paid in cash on the morning of December 24, just in time for Christmas. On his way home that afternoon he stopped at a grocery store and purchased one orange for each of his children – a real treat in those days. The orange was one of those thick-skinned Washington navel oranges – one which you tried to peel without too many tears – maybe four inches across. It wasn't one of those thin-skinned varieties.
Slowly over the years the giving of an orange on Christmas Eve became a tradition at Jim's house.
Now Jim finished high school toward the end of World War Two. He enlisted at graduation, and a month later he was being shown which end of a rifle a bullet goes in, and which end it comes out of. A few months later he found himself filling in for some wounded GI only a few hundred yards from the German lines. His poor luck continued. Almost immediately on his arrival the Germans began a fierce counteroffensive which was called "The Battle of the Bulge." The fighting was ferocious, and books and movies have commemorated this battle. While rations and ammunition were scarce, the USO still felt it necessary to deliver mail and packages to keep up the morale of the troops. Christmas was approaching.
Jim got his box. His kid sister had knitted him a pair of wool socks because his letters said his feet were always cold and wet. His mother had stuffed as many homemade chocolate chip cookies into the package as she could. And Dad – Dad, of course, added an orange.
Jim was lucky. He made it home. Got an engineering degree on the GI Bill, met a sweet gal named Pat, and got married.
On their wedding night lots of Jim and Pat's friends got up and gave them a rough time, lots of teasing and laughing.Then it came time for Jim's Dad to speak. Never a very articulate guy, the whole wedding party fell silent when he got up. He stood behind the mike, quiet for a few seconds, then turned to Jim and said "Jim, from now on you gottta buy your own oranges."
Have a happy holiday season and eat an orange to remember one member of the "Greatest Generation."