Over the years as I have traveled to more than one hundred countries, there have been times that I was embarrassed by American policies. But, generally it has been the reverse. Again and again I have been proud to be a citizen of our great nation. We've certainly done a number of foolish things, but these have been balanced by our generosity and positive actions.
When you and I travel we are recognized as being from the United States. Our clothes, baseball caps, shoes, khaki pants, cameras – all cry out "USA", and we are well received. Admittedly, upon occasion I have been embarrassed by other Americans while off shore. Most of us are fluent in only one language, while Europeans speak three or four. This limits and frustrates some as they attempt to communicate their needs. From time to time one may run across a fellow countryman who is demanding and/or who ignores or makes fun of local customs. In general, however, I find most of my U.S. traveling soul mates courteous and kind and very respectful of any local conditions that may cause them to be uncomfortable. I believe most of us are endowed with a great sense of humor which often helps us through trying situations.
So, where is this leading us? There was one instance, one moment – where I grew ten feet tall and my chest swelled, filled with American pride. It was an instance that is hard for me to forget. Let me tell you about it.
We were traveling in Austria in early October. The weather was perfect, and the rolling hills covered by trees in the process of turning red were gorgeous. Vienna is a grand old city and contains any number of pleasant tourist attractions. It is always clean as a whistle and hosts tons of great eating places. Salzburg is another one of those cities that conjure up pleasant memories. The castles, walks along the river, and of course the hearty food washed down with the local beer. I also cannot visit Salzburg without humming some of the "Sound of Music" tunes. We chose a number of one-day outings while in both cities, and we selected a day trip to Mauthausen – one of the lesser-known concentration camps during World War II. While Dachau is the more publicized, I believe Mauthausen is better preserved.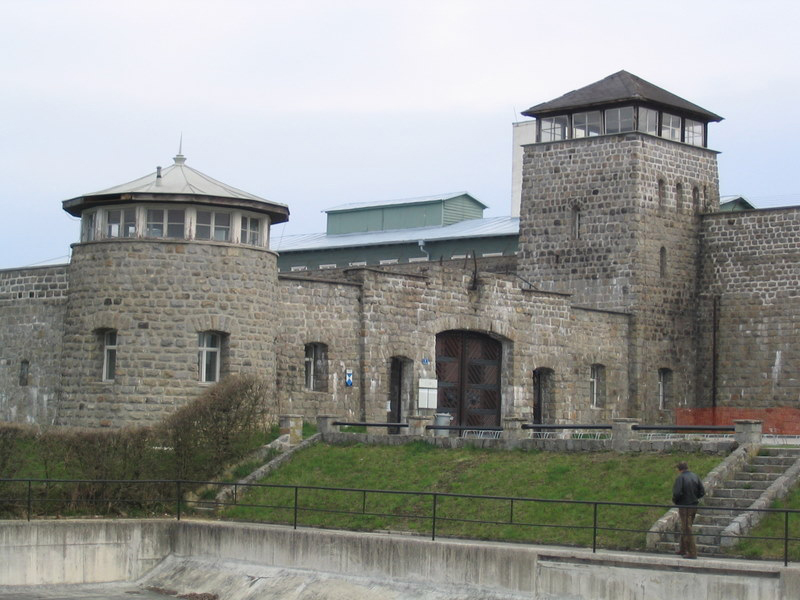 The buildings were old, mostly of brick, and they called out "confinement." The interiors showed crowded conditions with three tiered bunk beds. The displays showed us sparse eating tools and pictures of starving inmates. We were shown the rock quarry where these men worked, hacking out huge boulders for use in construction elsewhere. Our guide took us to the top of the quarry and told us that hundreds of prisoners who were unable to stand the pressure jumped to their death in the quarries. The guards carelessly called them "parachutists without chutes."
As we toured the barracks, the gas chambers, the ovens – the feelings of suppressed horror were evident. Our voices were lowered – we were mostly silent. Our moods soured and became blacker and blacker as we moved about. By the time the tour ended, we were speaking in whispers and spending moments in quiet contemplation. Tears fell easily.
Then as we left I saw this sign.
On May 4, 1945 this camp was liberated by the US 41st Recon Platoon of the 11th US Armored Division.
A group of young American soldiers had placed themselves in harm's way to perform a memorable humanitarian act. I was very proud to share in their heritage.