March brings overcast, sometimes drizzly mornings interspersed with sunny afternoons. Bursts of color begin to erupt in our home gardens; and each week some new seasonal delicacy appears at the farmers' market. Stands brimming with fragrant citrus fruits are now joined by other cool-weather crops like snapping-fresh asparagus spears, sweet multi-color beets, tender salad greens, big bumpy fava beans, mild-mannered leeks, a trilogy of plump peas (English, sugar-snaps, and snow peas), and a scarlet sea of early strawberries. The farmers' market is also well stocked with crisp green cabbage and numerous potato varieties ideal for St. Patrick's Day celebrations. Spring flowers abound…ever the perfect antidote to a gloomy day.
Even with all this bounty before us, it would take a very cold-hearted Californian to resist the charms of the season's first artichokes. Here where they are cheap and plentiful, artichokes have become part of the California lifestyle. I never tire of them—steamed or boiled; braised; marinated; fried; stuffed and baked; or blanched and charred on the grill. Bring it on.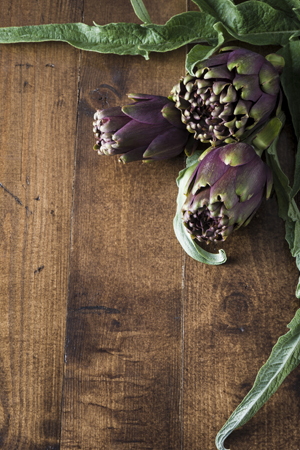 The following recipe is adapted from one that appeared in Sunset magazine a number of years back. This convenient cooking method is a nice switch, and celebrates the artichoke's origins with aromatic Mediterranean flavors. It's also a great make-ahead dish, since these artichokes are equally delicious at room temperature.
 Prickly Points
–Edible thistles of the sunflower family and native to the Mediterranean, artichokes were brought to California in the 1880's by Italian immigrants.
–California produces 100% of all commercially grown artichokes in the United States
–Approximately 75% of harvested artichokes are sold fresh; the remaining 25% are
processed as canned hearts and crowns or as frozen, quartered artichokes
–Globe artichokes are cultivated mainly in California's foggy mid-coastal regions.
–The peak season for artichokes is March through May, with a shorter second season in the fall. Artichokes grown in the fall are usually more cone-shaped than round, and their outer petals have a purplish tinge.
–The first artichokes to appear at the top of the plant are the largest; those picked thereafter are smaller. The "babies" that grow under the plant's large silvery leaves rarely develop a choke, so they can be cooked and eaten whole or cut into slivers and eaten raw.
–Buy artichokes that feel heavy for their size, with an unopened, compact leaf formation and firm stem with little sign of browning at the end. The leaves should "squeak" when pressed together. (However, note that thornless varieties—without prickly tips—will not pass the squeak test.)
–A slightly bronzed or blistery look on the leaf edges (dubbed "winter's kiss" by some advertising wizard) is merely an indication of the artichoke's exposure to frost, and does not affect the artichoke's quality. (In fact, some growers swear they taste the best.)
–Refrigerate unwashed artichokes in a closed plastic bag for up to 5 days.
–When preparing artichokes, some cooks prefer to wear rubber gloves to protect their hands from the prickly tips.
–To reduce discoloration, as you are working drop each cut artichoke  into a large bowl of acidulated cold water (i.e., 3 tablespoons of lemon juice or vinegar to 1 quartcool water).
–Don't discard the artichoke stems! They taste remarkably similar to the prized hearts. When you find an artichoke with a nice fat stem, use a small knife or a swivel-bladed vegetable peeler to remove the tough, fibrous outer layer; then steam or roast it along with the artichokes. (Watch closely, as they cook faster.)
–1 medium artichoke weighs in at a mere 60 calories, with 7 grams of fiber.
 Oven-Steamed Artichokes
3 large farm-fresh artichokes, each about 4 inches wide, preferably with thick stems attached
1/4 cup California extra virgin olive oil
6 large garlic cloves, peeled if desired
6 small sprigs of fresh thyme or other favorite herb
6 thin lemon slices, seeds removed
Coarse (kosher) salt
Preheat the oven to 375 degrees. Working 1 artichoke at a time, break off and discard the small tough outer leaves. Use a large knife to cut off the tips and stems. With kitchen scissors, snip off the thorny tips from the remaining leaves. Trim the dark base from the stem end and peel the coarse outer fibers from the stem and artichoke bottom. Cut artichokes in half lengthwise and remove and discard the fuzzy choke with a melon baller or small spoon. Drop artichoke halves and stems in a bowl of acidulated water. Repeat with remaining artichokes.
Pour oil into a 13- x 9- x 2-inch baking dish…or any other dish in which the artichokes will fit snugly in a single layer. Roll the peeled stems and artichoke halves in the oil to coat lightly. Arrange artichoke halves cut-side down in the baking dish. Place a garlic clove in the cavity where the choke had been; then slide a sprig of thyme and a lemon slice under each artichoke half. Tuck the stems into spaces between the artichokes. Cover with parchment paper to prevent discoloration; then cover tightly with foil. Bake until the artichoke bottoms are just tender when pierced with the tip of a sharp knife, about 40 minutes.
Carefully place each artichoke half on a serving platter, cut-side up, leaving the garlic and thyme in place, topped by the steamed lemon slice. Arrange the stems on the platter; drizzle the baking juices over all, and season with salt. Serve warm or at room temperature; as is, or with mayonnaise, aioli, melted butter, and/or fresh lemon wedges on the side. Serves 3 artichoke lovers at dinner, or 6 polite people as part of a buffet.
The Danville Certified Farmers' Market, located at Railroad and Prospect, is open every Saturday, rain or shine, from 9 a.m. until 1 p.m. For specific crop information call the Pacific Coast Farmers' Market Association at 1-800-949-FARM, or visit their web site at www.pcfma.com. This market is made possible through the generous support of the Town of Danville. Please show your appreciation by patronizing the many fine shops and restaurants located in downtown Danville. Buy fresh. Buy local. Live well.