There's no denying it. Summer has passed. The mornings are crisp, the days are short, and we feel the year drawing to a close. My nesting instinct shifts into over-drive this month, and I view this as cause for celebration. Stack up the firewood, light the candles, hang a wreath on the door, and pile the pumpkins on the front porch! There are still plenty of good times ahead.
Although the last of vine-ripened tomatoes still abound, this month's farmers' market also features autumn's star crops: crunchy apples, creamy pears, plump figs, juicy pomegranates, fiery persimmons, pumpkins (of course), and sweet table grapes.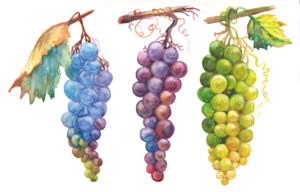 Grapes imported from far-off lands are available in supermarkets throughout the year, but usually a sorry excuse for the real thing.  When not shriveled or moldy, they're often unpalatably sour. Though technically in season from May through January, autumn is when locally-grown grapes come into their own.
Grapes have a natural affinity for cheese—which is why they are nearly always used to garnish cheese platters. Their cool sweetness adds color and zest to all sorts of salads—from mixed greens to chicken to Waldorf. They are a healthy snack eaten out of hand; and a surprise burst of goodness when frozen for icy "poppers."
This month's recipe involves the less-common technique of roasting grapes, which intensifies their unique flavor. In addition to making a delicious topping for crostini, roasted grapes make a stellar accompaniment to all matter of poultry and pork, including grilled Italian sausage.
Fruit-of-the-Vine Facts
California's grape growing tradition began with the Spanish missions, with grapes planted for sacramental wines.
In the early 1800's, Californians began growing grapes to eat fresh. In the 1900's, European immigrants began growing grapes in the Central Valley.
Thanks to our unique climate, California grows over 98% of the table grapes sold in the United States.
In 2015, California grape growers harvested their third largest crop in history– 110.5 million boxes!
Americans consume an average of over 8 pounds of grapes per year.
Look for plump grapes with pliable green stems.
Many grape varieties have a subtle white coating called "bloom." This is simply nature's way of keeping moisture inside the grapes, and rinses off easily.
Refrigerate unwashed grapes in an open plastic bag until ready to serve; then rinse under cold water and pat dry.
__________________________________________________________________
California Grape Crostini
1 pound seedless red table grapes, such as Red Flame
3 fresh thyme and/or rosemary sprigs, plus extra for garnish
2 tablespoons California extra-virgin olive oil
Coarse (kosher) salt
1 large pinch crushed hot red pepper flakes
12 to 14 ounces soft cheese, such as California goat cheese, blue, or fresh ricotta, at room temperature
Small arugula leaves (optional)
Preheat the oven to 425 degrees. Remove the stems from about 12 ounces of grapes; and cut the remainder into small grape clusters. (Keeping grapes attached to their stems ensures that some of the grapes will retain their shape during the cooking process.)
Place the loose grapes and grape clusters on a parchment-lined rimmed baking sheet. Top with herb sprigs and drizzle olive oil over all. Season with salt to taste, and sprinkle with pepper flakes. Toss to lightly coat the grapes with oil, and spread into an even layer. Bake until most of the loose grapes have collapsed and wrinkled, 12 to 15minutes.
When cool enough to handle, discard the herb stems and either remove stems from the grapes, or use the small clusters as an edible garnish when serving. Scrape the grape mixture into a small serving bowl. (The grapes can be prepared a day or two in advance, and returned to room temperature before serving.)
Arrange the crostini, cheese, arugula (if using), and bowl of roasted grapes on a wooden cutting board or large platter, and garnish with fresh herb sprigs. Have each guest spread cheese over a crostino and top with a leaf of arugula and a spoonful of roasted grapes. Serves 8 to 10.
Variation
The roasted grape mixture can be spooned over the top of a small wheel of brie anddrizzled with a bit of local honey. Garnish the platter with fresh herbs and a handful of toasted whole almonds or walnut halves. Serve with crackers or crostini.
Crostini
24 baguette slices (cut 1/4- to 3/8-inch thick)
3 tablespoons California extra virgin olive oil
Preheat the oven to 400°F. Arrange a single layer of bread slices on a baking sheet. Brush the top of each slice with oil.
Bake until golden and lightly toasted at the edges, 7 to 10 minutes. Let cool. Use at once, or store airtight at room temperature for up to 3 days.
 Variation
To make Garlic Crostini: Bake the crostini as directed above. When cool enough to handle, rub the browned side of each toast with the cut side of a garlic clove, grating against the rough surface to distribute the garlic flavor.
The Danville Certified Farmers' Market, located at Railroad & Prospect, is open every Saturday, rain or shine, from 9 a.m. until 1 p.m. For specific crop information call the Pacific Coast Farmers' Market Association at 1-800-949-FARM, or visit their web site at www.pcfma.org. This market is made possible through the generous support of the Town of Danville. Please show your appreciation by patronizing the many fine shops and restaurants located in downtown Danville. Buy fresh. Buy local. Live well!