Some produce is so perfect in its natural state that it's almost a shame to mess with it. Take locally-grown strawberries, for instance. Oh sure, you can boil them up for jam or jelly, or toss them with rhubarb for a rosy pie filling that tastes of spring. You can bake them into an airy soufflé or freeze them into icy sorbets. All very nice. Or you can just grab one by its little green cap and pop it into in your mouth… and the taste sensation probably won't be any less spectacular.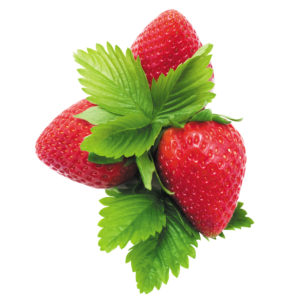 But after staring at unadorned berries on your morning cereal for eight days in a row—no matter how good they are–it's understandable that you might want to vary your intake. That's when a show-stopping dessert comes into play.
The following recipe contains three little tweaks that make it stand out from the ordinary:
The berries are combined with a splash of orange juice for both its fragrance and its subtle acidity. (If you want to get fancy-schmancy, use an orange liqueur instead of the juice.)
A bit of sugar marries the orange with the natural juices from the berries to form a more perfect union. Then some of the berries are smashed to create a saucy texture.
Buttermilk makes the orange-flecked biscuits exceptionally tender; and a touch of cornmeal gives them a pleasantly sandy quality to offset the richness of the whipped cream. And that is how you spell perfection.
STRAWBERRY SHORTCAKE L'ORANGE
4 pint-baskets (8 cups)farm-fresh strawberries, rinsed, hulled, and halved
3 tablespoons granulated sugar
1 to 2 tablespoons fresh orange juice, to taste
2 cups heavy (whipping) cream, preferably NOT ultra-pasteurized
3 tablespoons powdered (confectioners') sugar, plus extra for garnish
2 teaspoons vanilla extract
8 Cornmeal-Buttermilk Biscuits (recipe follows)
Optional: 8 small mint sprigs, for garnish
1. In a bowl, combine the strawberries, granulated sugar, and orange juice. Stir to mix, coarsely mashing about 1/4 of the berries with the back of a spoon. Let stand 15 minutes to dissolve the sugar and let the flavors blend. (This can be made a day in advance; just cover and refrigerate.)
2. Using an electric mixer or a large whisk, whip the cream with the powdered sugar and vanilla until soft peaks form.
3. To assemble, use a serrated knife to carefully split each biscuit in half. Place the bottoms on 8 dessert plates. Top each with a large spoonful of the berries and their juices, and then a heaping 1/4 cup of whipped cream. Cover with biscuit tops. Place a dollop of the remaining whipped cream over each biscuit, and top with the remaining berries. Dust powdered sugar over all and garnish with mint, if desired. Serve at once. Makes 8.
Cornmeal-Buttermilk Biscuits
1 3/4 cups all-purpose flour
1/4 cup finely ground yellow cornmeal
1/4 cup granulated sugar, plus 4 teaspoons for sprinkling on tops
2 teaspoons baking powder
1/2 teaspoon baking soda
1/2 teaspoon fine sea salt
6 tablespoons cold unsalted butter, cut into pieces
Finely grated zest of 1 orange
3/4 cup cold, well-shaken buttermilk, plus extra to brush on the shortcakes
1. Preheat the oven to 425 degrees. In a food processor, combine the flour, cornmeal, sugar, baking powder, baking soda, and salt. Process briefly to blend. Add the butter and orange zest. Process, pulsingthe machine on and off, until the dough resemblesvery coarse meal. With the machine running, pour in the buttermilk, mixing only until incorporated. Bits of butter should still be visible.
2. Scrape the dough onto a lightly floured work surface. Knead once or twice until smooth. Working quickly, roll or pat the dough into a 1-inch thick disk. Using a 3-inch biscuit cutter dipped in flour, cut out as many biscuits as possible. Gently gather together the dough trimmings, pat into another 1-inch thick disk, and cut more biscuits.
3. Arrange the biscuits 2-inches apart on a parchment-lined baking sheet; brush with  buttermilkand sprinkle with the remaining 4 teaspoons sugar. Bake until golden and firm to the touch, 10 to 15 minutes. Transfer to a wire rack to cool. Serve slightly warm or at room temperature. These are best served the same day they are made. Makes 8.
Savvy Cook's Know-How
–Alternatively, the dough can of course be made by hand: In a large bowl, combine the flour, cornmeal, baking powder, baking soda, and salt. Whisk gently to blend. Add the pieces of cold butter and the orange zest, tossing to coat with the flour mixture. Using a pastry blender, 2 forks, or your fingertips, quickly cut the butter into the dry ingredients until the mixture resembles coarse meal. Stir in the buttermilk and proceed as directed in Step 2.
–No buttermilk? No problem. Pour 1 tablespoon of fresh lemon juice or distilled white vinegar into a glass measuring cup; then stir in enough cold milk to make 3/4 cup. Let stand for 10 to 15 minutes, until the milk has curdled. (When you reach Step 3 in the biscuit recipe, just brush the shortcakes with plain milk.)
–If you don't have a 3-inch round cookie cutter, use the similarly-sized rim of a drinking glass, dipped in flour, to cut the biscuits.
–The first biscuits you cut from the dough will inevitably rise the most evenly and be the best looking. Take care when gathering the dough for the second batch, handling it as little as possible.Over-working biscuit dough results in tough biscuits.
–Ultra-pasteurized cream is a favorite with many supermarket managers because it has a ridiculously long shelf-life. Unfortunately it also has a vaguely plastic flavor and takes forever-and-a-day to whip. Forget the "ultra" and opt for pasteurized heavy cream—organic, if possible—and you will be much happier with the result. This is no time to cut corners.
–The simple strawberry mixture is delicious on its own, so you may want to whip up another batch to use in other ways. (That is, in ways other than eating it directly out of the refrigerator.)
For example:
–For a light and lovely dessert, spoon the berries and their juices into a martini or wine glass and top with a dollop of Greek yogurt or whipped cream.
–For a sensational sundae, top a fudgy brownie with a scoop of vanilla ice cream and ladle strawberry sauce over the top.
–For the fat-phobic, serve it alongside angel food cake.
–Layer it in parfaits, or use as a topping for French toast, waffles, or pancakes; your favorite ice        cream, frozen yogurt, or sorbet.Or, for a special breakfast, drizzle the strawberry sauce over an omelet         filled with a bit of cream cheese or soft goat cheese.
As the season moves on, mix things up by using an assorted berries, like strawberries, blueberries, and raspberries for your shortcakes.
Berry Good Tips
–Did you buy more berries than you can possibly consume in one day? Here's a storage secret from one of our growers: Line a plastic container with a layer or two of paper towels to absorb any excess moisture. Gently pile in the unwashed strawberries with their caps intact. Top with another layer of paper towel, seal with an airtight lid, and store in the refrigerator for up to 1 week.
–Wait until just before using to wash strawberries and/or remove their green caps. Washing berries removes their shiny, naturally protective outer layer; and those caps prevent water from soaking into the strawberries and diluting their flavor and altering the texture.
–To wash, place berries in a colander or large sieve and rinse quickly under a gentle spray of cold water. Pat dry with paper towels and remove the green caps, if desired.
The Danville Certified Farmers' Market, located at Railroad and Prospect, is open every Saturday, rain or shine, from 9 a.m. until 1 p.m. For specific crop information call the Pacific Coast Farmers' Market Association at 1-800-949-FARM, or visit their web site at www.pcfma.org. This market is made possible through the generous support of the Town of Danville. Please show your appreciation by patronizing the many fine shops and restaurants located in downtown Danville. Buy fresh. Buy local. Live well!