Most of us have undergone a detox of sorts since January 1. But between the Super Bowl and Valentine's Day and The Year of the Rooster and every other holiday-centric excuse we find for feasting, our dietary choices often expand right along with our waistlines.
Through thick and thin, however, the farmers' market remains our portal to healthy living. More veggies; less meat. Processed foods are scarce. No elevator music = no stress. Plus, shopping in the open-air is downright invigorating.
This month's market is brimming with juicy citrus fruits, crunchy apples, creamy pears, and other sweet starlets from the waning days of winter. February also signals the arrival of early crops like sugar snap peas and strawberries, offering a sneak-peak of coming attractions.
As we wait for spring to launch into full swing, now is the perfect opportunity to explore more common vegetables we sometimes take for granted, or view as not being "special" enough for company. Just give them a New Year's makeover! Show everyone that plain-Janes like broccoli, carrots, and mushrooms can be as glamorous as their short-seasoned cousins.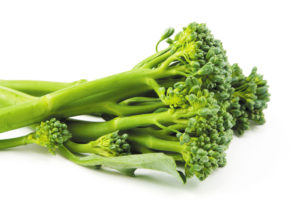 The following has become my go-to winter recipe for both potlucks and entertaining large groups at home. Prep is limited; the recipe is easily multiplied; everything cooks together in a hot oven; and it can be served either warm or at room temperature. And, oh yeah, it also tastes great. There's nothing ho-hum about these vegetables.
Roasted Broccolini with Herbed Mushrooms
1 1/2 pounds mushrooms (any variety), halved if large
1/2 cup California olive oil
2 teaspoons coarsely chopped fresh thyme leaves
1 1/2 teaspoons soy sauce
Freshly ground black pepper, to taste
1 1/2 pounds broccolini, tough ends trimmed
1/2 teaspoon coarse (kosher) salt
Position one oven rack in the lower third of the oven, and another rack in the center. Preheat the oven to 400 degrees.
On a large rimmed baking sheet, combine the mushrooms, about 6 tablespoons of the oil, the thyme, soy sauce, and pepper Toss gently to coat.
Spread into an even layer and place the baking sheet on the lower rack of the oven. Roast, stirring once, until the mushrooms are browned and tender, about 30 minutes.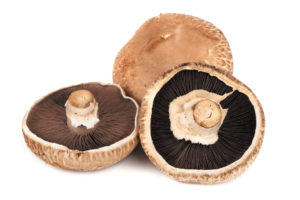 Meanwhile, place the broccolini on another large rimmed baking sheet, drizzle with the remaining 2 tablespoons of olive oil, and season with salt. Toss gently to coat. Spread into an even layer and place the baking sheet on the center rack in the oven. Roast the broccolini, turning once, until the stems are crisp-tender when pierced with the tip of a sharp knife, 10 to 15 minutes.
Arrange the vegetables decoratively on a large platter. Serve at once, or let cool to room temperature. Serves 4 to 6.
Recipe Afterthoughts
It's all cruciferous. I happen to be partial to broccolini, a natural hybrid of broccoli and Japanese kai-lan. (Sometimes you will see it labeled as "baby broccoli.") The smaller florets and long, thin stalks with tender skin make for speedy prep in the kitchen. If you are a fan of pleasantly bitter broccoli raab, it makes an easy substitute. And when substituting plain ol' garden-variety broccoli, simply peel away the tough skin from the stems and cut lengthwise, from stem through the florets, into smaller spears.
Don't be timid when roasting vegetables. A little char at the edges adds visual appeal as well as flavor. (After a childhood of eating water-logged veggies, it also makes for a pleasant surprise.)
If soy sauce seems out of place in this recipe, don't worry. It will not make the mushrooms taste like Chinese takeout. It simply boosts the umami factor, helps with browning, and adds sodium to bring out the natural flavor of the mushrooms.
I like to use an assortment of cultivated and wild mushrooms for this dish—as grand or as meager as budget allows. The exotic ones taste wonderful, of course, and make the dish look like more of a Big Deal.
If you're fresh outta thyme, finely chopped rosemary makes a tasty substitute. If you must use dried herbs instead of fresh, use a generous 1/2 teaspoon only.
If you are inclined to gild the lily, it never hurts to shave a bit of Parmesan over the top before serving.
Although the recipe makes 4 to 6 generous servings, it has been known to serve 8 or more as part of a buffet. If you are lucky enough to have leftovers, use the veggies to fill omelets. Or eat them cold, directly out of the refrigerator. Whatever.
The Danville Certified Farmers' Market, located at Railroad & Prospect, is open every Saturday, rain or shine, from 9 a.m. until 1 p.m. For specific crop information call the Pacific Coast Farmers' Market Association at 1-800-949-FARM, or visit their web site at www.pcfma.org. This market is made possible through the generous support of the Town of Danville. Please show your appreciation by patronizing the many fine shops and restaurants located in downtown Danville. Buy fresh. Buy local. Live well!