California leads the nation in many respects. Including produce. While residents of most other states rejoice at finally finding something other than broccoli in the supermarket this month, Californians enjoy their fill of spring crops while also getting a sneak-preview of summer. Along with early stone fruits like apricots and cherries, there is now a proliferation of berries and juicy melons. In the vegetable arena, look for early vine-ripened tomatoes and just-picked corn, shiny eggplant, tender summer squash, and crisp bell peppers.
But before we get ahead of ourselves here, let's make the most of what is left of spring. Cool-weather crops like all manner of peas, from sweet-as-candy sugar snaps; crisp snow peas; and "English" or common garden-variety peas-in-the-pod are still available. You can bet I'll be buying an armload of them to make a pot of light and lovely fresh pea soup.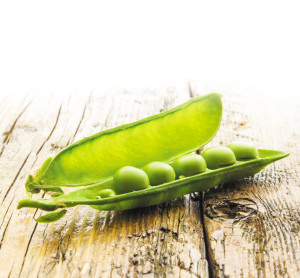 If the thought of pea soup leaves you shrugging your shoulders and saying, "Meh", hear me out. There are a few things to consider:
–This recipe gets its creaminess from canned coconut milk, an inexpensive product easily found in the Asian foods section of most supermarkets.(Do not confuse canned coconut milk with those tooth-achingly-sweet canned "cream of coconut" products used to make tropical cocktails.) If unfamiliar with it, you may be surprised that it is neither sweet nor overtly "coconutty." Once exposed to its versatility, you'll probably want to keep a couple of cans in the pantry at all times.
–Rest assured this soup bears absolutely no resemblance to the drab, pasty split pea soup from your grammar school cafeteria. Or that scary movie involving an exorcist.
–And finally: Unlike many green soups served at fancy-schmancy restaurants, this one is not silky- smooth, so you actually know what you're eating. If you want to go to the trouble of straining the soup through a fine sieve, be my guest…but I prefer to savor all that pea-goodness.
Serve this warm or chilled, depending on your mood. It makes a memorable first course, or a delightfully light lunch or dinner–especially when paired with a few slices of toasted artisan bread slathered with soft California goat cheese. For variation, I sometimes pour 3-ounce portions of soup into espresso cups to serve as an appetizer. It's always a hit. No one anticipates that pleasantly mild undercurrent of Thai flavor; and that gorgeous spring-green color is difficult for anyone to resist. Have I convinced you yet?
The most time-consuming part of this recipe is in the preparation, but all of it can be done in advance. Shelling peas is one of those mindless tasks best undertaken while singing along with the radio, or while solving the problems of the world (in your own mind). If time is short, bribe children to do it for you. But always buy more than you think you need. Kids will inevitably learn that popping a few cool, crunchy peas into their mouths as they work is the most rewarding part of the ritual.
Fresh Pea Soup with Thai Flavors
1 tablespoon California olive oil
2 large shallots, chopped
1 Thai chile pepper, seeded if desired and finely chopped, or 2 teaspoons finely- chopped jalapeño
Fine sea salt
1 (2- to 3-inch) piece of fresh ginger, peeled and finely grated
1 large lime, plus additional lime wedges for serving
4 pounds fresh peas-in-the-pod (about 4 cups shelled)
2 cups (16 ounces) reduced-sodium chicken broth
1 teaspoon Asian fish sauce (Thai namplaor Vietnamese nuoc mam)
1/4 teaspoon sugar
Half of a well-shaken can (13- to 14-ounces) coconut milk*
Optional garnishes:
Fresh Thai basil or mint leaves, cut into thin strips or chopped, and/or coarsely-chopped fresh cilantro
Thinly sliced green onion (scallion)
Chopped fresh chives
Additional lime zest
A few drops of Sriracha sauce or Asian hot chili oil
1. In a soup pot or large saucepan, heat the oil over medium heat. Add the shallots, chile, and 1/4 teaspoon salt. Cook, stirring, until the shallots have softened, 2 to 3 minutes.
2. Finely grate the zest of the 1 lime and add it to the pot. (Reserve the rest of the lime for later.) Add the ginger and cook, stirring occasionally, until fragrant, 1 to 2 minutes longer. Stir in the peas, chicken broth, fish sauce, and sugar and increase the heat to medium-high. Bring to a boil; then reduce the heat to low and cook, uncovered, until the peas are tender but still bright green, 3 to 5 minutes. Stir in the well-mixed coconut milk.
3. Using an immersion blender, puree the soup until almost smooth. (Alternatively, let the soup cool and, working in batches, puree in a blender.) Squeeze the juice from the previously-zested lime and stir into the soup. Taste, adding more salt as needed. Serve warm or chilled, topped with any of the garnishes listed above. (To serve chilled, taste first to adjust the seasonings. If it is too thick, you may also need to add more broth to thin the mixture.) Pass lime wedges at the table to squeeze over each serving. Makes about 4 cups.
*Coconut milk naturally separates in the can, causing its cream to rise to the top. Before opening the can, shake it vigorously to emulsify the liquid inside. Measure out a scant 1-cup to use in this soup. The remaining coconut milk can be refrigerated and reserved for another use.
The Danville Certified Farmers' Market, located at Railroad and Prospect, is open every Saturday, rain or shine, from 9 a.m. until 1 p.m. For specific crop information call the Pacific Coast Farmers' Market Association at 1-800-949-FARM, or visit their web site at www.pcfma.com. This market is made possible through the generous support of the Town of Danville. Please show your appreciation by patronizing the many fine shops and restaurants located in downtown Danville. Buy fresh. Buy local. Live well!