Were it not for summer produce, this would be my least favorite season of the year. Don't get me wrong—I'm all for vacations and barbecues. I'm just not a warm-weather gal. Most likely because my roots stem from the northern coast of Ireland, I am genetically predisposed to avoid the sun. Really. Unlike most of my friends who welcome the warming rays, I retreat like a vampire. There is no SPF too high; no UV protection too great; no hat-brim too wide; nor water bottle too cold. I've never met an air-conditioner I didn't like. I arrive at the farmers' market in the early morning hours; and work in my home garden at dusk. I thoroughly identify with Woody Allen's old line: "I don't burn. I stroke." But enough about me.
What I appreciate most about summer is how fruits and vegetables flourish in the California sun—even if I don't. The farmers' market is a riot of color and aromas, providing nationally-envied produce perfect for carefree meals.
Veggies like organically-grown tomatoes, crunchy cucumbers, a color spectrum of sweet bell peppers, tender young green beans, and summer squash are often best after little or no cooking, with nothing more than a sprinkling of salt and a drizzle of extra virgin olive oil. Just a few minutes on the grill makes summer's sweet corn the stuff dreams are made of. Incomparably juicy berries, peaches, nectarines, and plums speak for themselves.
Over the years summer squash—especially zucchini—has developed a bad rep. Instead of hacking into that watery, zeppelin-sized specimen your neighbor pawned off on you, enjoy the sweet surprise of tender young zucchini. Although you can usually find limp, bruised zucchini in supermarkets throughout the year, this is the season to find out what it should really taste like.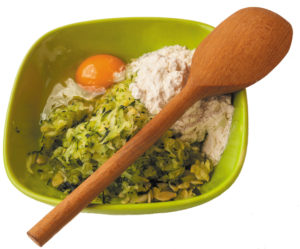 Outdoor entertaining is in full swing this month. When invited to a party I usually offer to bring an appetizer, though I don't want to break the bank on ingredients…or break into a sweat preparing it. This recipe fits the bill as it utilizes summer's most prolific vegetable; and can be made successfully without even turning on the oven. These one-or-two-bite-size snacks or sides—that resemble flat little frittatas—can be served at once while still warm; or made in advance and served at room temperature or (ideally) re-heated in your host's oven.
The easy sun-dried tomato aioli is a secret weapon to keep in your cooking arsenal. It is quickly made with store-bought mayonnaise, and makes just about everything taste better. Too bad it doesn't cure a sunburn.
Zucchini Cakes with Sun-Dried Tomato Aioli
1 pound farm-fresh small-to-medium zucchini, ends trimmed
1/2 teaspoon coarse kosher salt
1/4 cup all-purpose flour
3 tablespoons finely grated Parmesan cheese
2 large eggs, lightly beaten
1/8 teaspoon cayenne pepper
1 green onion (scallion), white and green parts finely chopped
2 teaspoons finely chopped fresh marjoram or oregano (or 1/2 teaspoon dried), plus sprigs for garnish
Olive or vegetable oil for frying
About 1/3 cup Sun-Dried Tomato Aioli (recipe follows)
Coarsely grate the zucchini, using the shredding disk on a food processor or the large holes on a box grater. (You will have about 4 cups.) Place shredded zucchini in a colander in the sink and sprinkle with salt; toss to coat. Place a plate on top of the zucchini to weight it down. Let drain 30 minutes. Line a baking sheet with parchment paper and set aside.
Working in batches, firmly squeeze handfuls of zucchini to remove excess moisture.
In a large bowl, whisk together the flour and Parmesan to blend. Whisk in the eggs and cayenne. Stir in the drained zucchini, green onion, and marjoram until well mixed.
Coat the surface of a large nonstick griddle or skillet with oil and heat over medium-high heat until hot. Working in batches, drop scant tablespoons of the zucchini mixture onto the griddle without crowding. Use a spatula to flatten the cakes into 2-inch rounds. Cook, turning once, about 1 to 1 1/2 minutes per side. As each batch is completed, drizzle more oil onto the griddle as needed. As you work, place the cakes on the prepared baking sheet, arranging them in a single layer. Transfer to a platter to serve at once, or cool completely, cover with plastic wrap, and refrigerate for up to 24 hours. Serve at room temperature, or reheat, uncovered, in a 400 degree oven until warmed through, 7 to 9 minutes.
To serve, place zucchini cakes in a single layer on a platter. Top each with a drizzle or dollop of aioli and garnish the platter with marjoram sprigs. Makes 24 (2-inch) appetizers.
Sun-Dried Tomato Aioli
10 oil-packed sun-dried tomato halves (about 1/2 cup), lightly drained (about 2 ounces)
1 large garlic clove, halved
6 tablespoons mayonnaise
1 teaspoon fresh lemon juice
1/4 teaspoon fine sea salt
A generous dash of cayenne pepper
2 tablespoons California extra virgin olive oil
Combine the sun-dried tomatoes and garlic in a food processor or blender. Pulse until finely chopped.
Add the mayonnaise, lemon juice, salt, and cayenne. Process until well blended. With the machine on, gradually add the olive oil in a thin stream until incorporated. Use at once or cover and refrigerate for up to 3 days. Makes about 2/3 cup…which is more than you'll need for the zucchini cakes. Use the leftovers to drizzle over grilled chicken; as a dip for veggies; or as a spread for sandwiches or crostini.
The Danville Certified Farmers' Market, located at Railroad & Prospect, is open every Saturday, rain or shine, from 9 a.m. until 1 p.m. For specific crop information call the Pacific Coast Farmers' Market Association at 1-800-949-FARM, or visit their web site at www.pcfma.org. This market is made possible through the generous support of the Town of Danville. Please show your appreciation by patronizing the many fine shops and restaurants located in downtown Danville. Buy fresh. Buy local. Live well!