As the year draws to a close, the farmers' market takes on a new life. Along with plants, flowers, and greenery ideal for decorating and gift-giving, there are plenty of essentials for holiday meals, including just-picked cruciferous vegetables, sweet potatoes, winter squash, pomegranates, persimmons, crisp apples, creamy pears, Meyer lemons, grapefruit, and tangy-sweet tangerines and oranges.
Having grown up in very modest circumstances in Ireland, my parents considered it perfectly reasonable to include a couple of fresh oranges to our Christmas stockings. We just saw it as a sneaky way of buying us fewer toys.
Then there was the year my father got his revenge on his ungrateful children by adding a few large russet potatoes to the bottom of each stocking. Imagine our excitement when we saw those bulging stockings hanging from the mantle! I'm still working through that one in therapy. But I digress…
Before going to bed on Christmas Eve, we always left Santa a couple of slices of my mom's Irish soda bread slathered with butter, and a cup of hot tea with milk and sugar. (Coincidentally, this also happened to be my father's favorite snack.)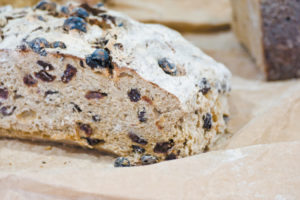 Just in case Santa drops by my house this year, I decided to set aside the traditional raisins for a change and give my soda bread a seasonal twist; along with an orange-scented honey butter. This will be good on Christmas morning, or anytime of day with a cup of tea, coffee, or hot cocoa.
Soda bread is so incredibly easy to make, the finished loaf leaves the novice baker feeling like a real pro. There is no temperamental yeast to deal with, for it is the chemical reaction between the baking soda and buttermilk that causes the bread to rise. My mom's version goes one step further by adding an egg, which also lightens the texture.
And don't overlook the gift-potential of this loaf, wrapped in cellophane with a big tartan-plaid bow.As holiday baking goes, this is a lot healthier than a batch of cookies… and takes less time to make.
HOLIDAY SODA BREAD
4 cups unbleached all-purpose flour
3 tablespoons granulated sugar
1 teaspoon baking soda
1 teaspoon fine seas salt
1 cup coarsely chopped dried cherries
1/2 cup coarsely chopped dried apricots
1/2 cup stemmed and coarsely chopped dried figs
Finely grated zest from 1 orange
2 cups buttermilk
1 large egg, at room temperature, lightly beaten
Preheat the oven to 375 degrees. Generously grease a 9- to 10-inch cast-iron skillet with vegetable shortening. In a large bowl, combine the flour, sugar, baking soda, and salt; whisk gently to blend. Stir in the dried fruits and orange zest to coat with the flour mixture. Make a well in the center and pour in the buttermilk and egg; mix until a stiff dough forms. (Use a wooden spoon if you must, but the most efficient way to mix this soft, sticky dough is with floured hands. Alternatively, the dough can be mixed in a heavy-duty mixer fitted with the dough hook… though, as far as I'm concerned, this just creates more stuff to wash!)
Remove the dough from the bowl and mound it into the prepared skillet, roughly forming a round loaf. (Don't be concerned it doesn't hold its shape; all will be corrected during baking.) Lightly moisten your hands with water to smooth the top. Using a serrated knife dipped in flour, score the top with a large X, about 1-inch deep. This will ensure even baking… and is said to also scare away the devil. (One can't be too safe when baking, after all.) Bake 1 hour or until the loaf is golden brown with a firm crust, and the bottom sounds hollow when tapped with a knife. Remove from the skillet and cool on a wire rack at least 30 minutes before cutting into 1/2-inch thick slices. Serve warm, at room temperature, or toasted, with or without Orange-Honey Butter. Makes 1 (9-inch) round loaf.
Orange-Honey Butter
1 stick (4 ounces) unsalted butter, at room temperature
1 tablespoon honey, or more to taste
Finely grated zest from 1 orange
Dash of salt
Mix together the butter, 1 tablespoon honey, orange zest, and salt until well blended.Taste, adding more honey if desired. Use at once, or cover and refrigerate.
Some final thoughts:
–If buttermilk is not something you normally use, fake it by placing 3 tablespoons of distilled white vinegar or lemon juice in a 1-pint glass measuring cup. Add enough milk to measure 2 cups and stir to mix. Let it stand at room temperature for 10 to 15 minutes, until the mixture appears slightly curdled.
–I think baking this in a cast iron skillet gives the finished bread more soul…or, at least, a better crust. If you don't have one, just use a well-greased 9-inch cake pan.
–Remember to check the expiration date on the box or can of baking soda in your pantry. It definitely loses its oomph over time.
–The original recipe calls for 2 cups of raisins, minus the orange zest, and that version still tastes wonderful. As you wander through the farmers' market, however, check out the wide assortment of dried fruits and nuts available to come up with your own signature holiday soda bread. I am already thinking about shaking things up with chopped pitted dates and walnuts or pistachios….
The Danville Certified Farmers' Market, located at Railroad & Prospect, is open every Saturday, rain or shine, from 9 a.m. until 1 p.m. For specific crop information call the Pacific Coast Farmers' Market Association at 1-800-949-FARM, or visit their web site at www.pcfma.org. This market is made possible through the generous support of the Town of Danville. Please show your appreciation by patronizing the many fine shops and restaurants located in downtown Danville. Buy fresh. Buy local. Live well!