Following summer's wild kaleidoscope of seasonal produce, the farmers' market may seem a bit tame this month. Stroll through at a leisurely pace, however, and you'll see there are still plenty of delicious bargains to be had. Look for an array of delicate Asian vegetables; plenty of crisp celery; cruciferous vegetables like broccoli, cauliflower, and Brussels sprouts; numerous varieties of lettuce; tender spinach; sweet potatoes; russet potatoes;the often-overlooked parsnip; winter squash; crisp apples; juicy citrus; and fuzzy little kiwi. Shopping at the farmers' market is the ideal way to begin the New Year—when both healthy eating and thrift are top priorities.
Carrots are available year 'round, so it's easy to take them for granted. That is, until you bite into a slightly bitter supermarket carrot with a tasteless, woody core. One taste of a sweet, farm-fresh carrot will remind you what all the fuss is about. As an added bonus, dark orange vegetables like sweet potatoes, winter squash, and carrots provide immune-nourishing beta carotene.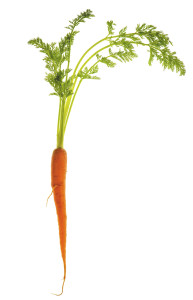 While I've got you thinking orange, let's talk "baby carrots" here. Americans seem to have a soft-spot for anything labeled "baby," and those ubiquitous little cellophane bags of carrots have captured the heart of our nation. Adults appreciate this effortless addition to any crudité platter; and kids love to nibble on them—with or without a dip for dunking. These "babies" naturally make a better food choice than a lot of other snack foods, providing you understand there is really nothing youthful about them. Some ingenious entrepreneur decided to whittle away the coarse outer layer from oversized carrots to create these finger-friendly snacks with the adorable name. For the best flavor, look for genuine baby carrots at the farmers market: they're definitely young and tender— with their green tops still attached as proof of freshness.
Snacking is all well and good, but winter calls for comfort food….and nothing beats a soup supper on a blustery evening. Roasting the carrots in the oven deepens their flavor, and fills your kitchen with tantalizing aromas. All that's needed to complete the meal is a green salad and a loaf of artisan whole grain bread from the farmers' market. Leftover soup will keep several days in the refrigerator, or you can freeze it for longer storage.
Carrot Tips
–Carrots, with their feathery green leaves and long, tapered roots, are members of the parsley family.
–At the farmers' market we'll often see "boutique" carrots in unexpected hues of deep red and other earth tones. The difference in flavor is negligible, but their color adds interest to stews and crudité platters.
–Other farmers like to experiment growing less common varieties of orange carrots that may be round or appear otherwise misshapen. Be sure to ask the grower about them, as they are often surprisingly sweet and flavorful.
–Healthy green tops are a sign of freshness—which is why most supermarkets sell only "clip top" carrots. Without the tops to give away their age, carrots can be weeks or even months old.
–It is best remove carrot tops immediately after purchase, as they eventually draw vitamins and moisture from the carrots.
–Yes, carrot tops are indeed edible, though sometimes slightly bitter. Use them as you would parsley.
–Carrots should be stored in a plastic bag in the crisper-drawer of the refrigerator.
–Should carrots become limp, re-crisp them in a bowl of ice water.
–Young carrots and (real) baby carrots are thin-skinned and therefor require only a light rinsing. Older carrots develop a tough outer skin, and should be peeled before using.
–1 cup of chopped raw carrots weighs in at a mere 52 calories. They are high in Vitamin A, and a good source of Vitamin C.
Roasted Carrot Soup with Warm Spices
2 pounds medium-to-large farm-fresh carrots, cut into 2- to 3-inch chunks
2 tablespoons California olive oil
1 teaspoon Madras curry powder
Fine sea salt
1/2 teaspoon ground cumin
1/8 teaspoon cayenne pepper
2 tablespoons unsalted butter
1 large onion, coarsely chopped
2 tablespoons minced fresh ginger
4 cups (32 ounces) homemade or reduced-sodium chicken or vegetable broth
2 1/2 cups water
Plain yogurt and/or coarsely chopped fresh cilantro or carrot tops for garnish                                   Optional: Lime wedges for serving
1. Preheat the oven to 375 degrees. On a baking sheet, drizzle the carrots with olive oil and sprinkle with curry powder, 1 teaspoon of salt, the cumin, and cayenne. Toss gently to coat. Spread the carrots into an even layer and cook, stirring once or twice, until lightly browned at the edges, about 45 minutes.
2. In a soup pot or Dutch oven, melt the butter over medium heat. Add the onion and cook until softened but not browned, about 5 minutes. Stir in the ginger and cook 5 minutes longer, stirring occasionally, until the onion begins to brown.
3. Carefully scrape the roasted carrots and their juices into the pot. Stir in the chicken stock and water. Increase the heat to high and bring to a boil. Reduce the heat to medium-low and cook, covered, until the carrots are very tender, about 45 minutes.
4. Using a hand-held immersion blender, puree until smooth. (Alternatively, let cool. Then, working in batches, purée in a food processor or blender.) Taste, adding more salt or spices if needed. To serve, ladle into bowls and garnish with a dollop of yogurt and a sprinkling of cilantro. Pass lime wedges at the table, for guests to squeeze into soup. Makes about 7 1/2 cups, to serve 4 to 6.
The Danville Certified Farmers' Market, located at Railroad and Prospect, is open every Saturday, rain or shine, from 9 a.m. until 1 p.m. For specific crop information call the Pacific Coast Farmers' Market Association at 1-800-949-FARM, or visit their web site at www.pcfma.com. This market is made possible through the generous support of the Town of Danville. Please show your appreciation by patronizing the many fine shops and restaurants located in downtown Danville. Buy fresh. Buy local. Live well.