I do most of my Thanksgiving shopping in the fresh air at the farmers' market—where the just-picked produce is both healthy and locally grown. I also take comfort knowing the money I spend there goes directly to the people who grow the food we eat, instead of some mysterious multi-national conglomerate. It's just one more way of giving thanks.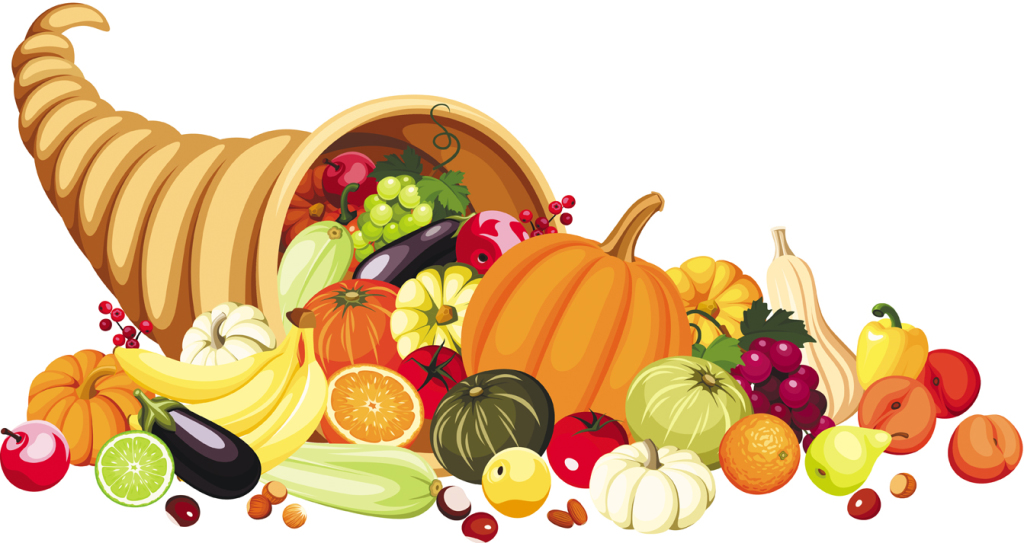 This month I'll stock up on freshly-harvested walnuts and almonds to enhance everything from appetizers to desserts; plump raisins, dried apricots, and other dried fruits; just-picked lettuce; pure fruit juices; sugar pumpkins and crisp apples for pies; acorn and other traditional winter squash for roasting; artisan bread, aromatic extra-virgin olive oil, sweet onions, celery, parsley, and garlic to make the best turkey dressing ever; tender young carrots; broccoli; Brussels sprouts; sweet potatoes; locally-produced honey; russet potatoes and Yukon Golds for mashing; beeswax candles and all other matter of flora, fauna, fruits, and veggies to make a spectacular yet affordable still-life centerpiece for my table. (After being admired for their beauty, all the produce will be consumed over the next week or so.) Inevitably I'll also add a few more gourds and pumpkins to the welcoming displays on my front porch and mantel. It's time to splurge. Thanksgiving comes only once a year!
The traditional feast means more than turkey and sides. Even if appetizers are not part of your usual game-plan, the leisurely pace of Thanksgiving requires a little something extra to quell hunger until dinner is ready. Forget the greasy potato chips and the ubiquitous plastic platter of icy, overcooked shrimp from the supermarket. C'mon folks. We can do better than that.
I happen to think a tray of crunchy farm-fresh crudités is the perfect answer, made all the better with a creamy dipping sauce. I've included the recipe for such a dip below, and guarantee it is going to taste better than anything you buy in a plastic tub at the warehouse store.
If you want to get a little fancier, "Figs in Blankets" may be just the right thing. I like to serve these yummy morsels on a bed of baby arugula leaves, so guests can grab a leaf or two along with a warm fig to add a peppery bit of freshness to each bite.
And if time is of the essence, I've added a few quick-fixes that should keep everyone happy. Even if your team is losing the game on television.
Fresh Spinach Dip with Feta and Dill
6 cups (loosely packed) fresh baby spinach leaves (about 5 ounces)
1 garlic clove, coarsely chopped
1/8 teaspoon salt
3/4 cup ricotta cheese
1 cup (4 ounces) crumbled feta or goat cheese
1/4 cup extra virgin olive oil
1 tablespoon fresh lemon juice
2 teaspoons chopped fresh dill weed, or 1/2 teaspoon dried
Dash of cayenne pepper
1. Rinse the spinach in a large bowl of cold water. Drain but do not dry, so some water still clings to the leaves. Place the damp spinach in a large heavy nonreactive saucepan. Cover and cook over medium heat, stirring once or twice, until the spinach is bright green and wilted, 3 to 5 minutes. Transfer to a colander to drain. When cool enough to handle, squeeze dry with your hands.
2. In a food processor or blender, combine the garlic and salt. Process until the garlic is finely chopped. Add the ricotta and process until smooth, scraping down the sides of the bowl with a spatula as needed. Add the feta, olive oil, lemon juice, dill, and cayenne. Process, pulsing the machine on and off, until blended. Transfer to a small serving bowl, cover with plastic wrap, and refrigerate 1 hour or overnight to blend flavors. Makes about 1 3/4 cups, to serve 8 to 10.
Figs in Blankets
6 to 8 ounces thinly sliced prosciutto, cut into 24 strips about 2- x 4-inches
About 4 ounces California goat cheese (or brie, Cambozola, or other soft cheese), well-chilled
12 small fresh figs (any variety), halved lengthwise; or 6 large figs, quartered
2 tablespoons balsamic vinegar
2 tablespoons local honey
1/2 teaspoon finely chopped fresh thyme leaves
Arugula leaves, for serving
Freshly ground black pepper
1. Preheat the oven to 350˚. Working in batches if necessary, arrange 24 prosciutto strips on a work surface. Place a fig half, cut-side-up, toward the bottom of each strip and top with about 1/2 teaspoon of cheese.
2. In a small bowl, whisk together the vinegar, honey, and thyme. Drizzle a bit of the sauce lightly over the cheese and roll to enclose the figs in prosciutto. Secure with a toothpick and arrange 2-inches apart on a parchment-lined baking sheet. Bake until the prosciutto is very lightly browned at the edges and the cheese is soft but not melted, 8 to 10 minutes.
3. Arrange the Figs in Blankets on a bed of arugula and drizzle each with a bit more of the remaining balsamic-honey mixture. Sprinkle lightly with freshly ground pepper and serve warm, not hot. Makes 24.
5 Almost-Instant Appetizers for the Harried Host
1. Serve tiny mild "breakfast" radishes alongside crusty slices ofartisan bread, best-quality unsalted butter, and a tiny bowl of coarse salt. Leave the greens on the radishes to use as a "handle" for grabbing.
2. Roll a log of fresh California goat cheese inchopped toasted almonds and dried cherries. Serve at room temperature with baguette slices.
3. Unmold a tub of mascarpone or cream cheese onto a small plate and top with fresh pomegranate seeds, finely chopped crystallized (candied) ginger, a finely chopped green onion, and a drizzle of honey.
4. Compose a fall fruit-and-cheese platter with store bought cheeses, wedges of Fuyu persimmon, apples, or pears; fresh figs, grape clusters,dried apricots, and/or toasted California walnuts.
5. Cut a cucumber into 1/2-inch thick slices. Pipe or spoon a bit of cream cheese onto each cucumber round and top with a piece of smoked salmon and a tiny sprig of fresh dill.
If you'd like to expand your entertaining repertoire—and have a lot of fun in the process—check out Peggy Fallon's upcoming class at Draeger's Cooking School at Blackhawk on Thursday, November 13, at 6:30 p.m. For more information go to www.draegerscookingschool.com, orcall 1-800-642-9463 ext. 261.
The Danville Certified Farmers' Market, located at Railroad and Prospect, is open every Saturday, rain or shine, from 9 a.m. until 1 p.m. For specific crop information call the Pacific Coast Farmers' Market Association at 1-800-949-FARM, or visit their web site at www.pcfma.com. This market is made possible through the generous support of the Town of Danville. Please show your appreciation by patronizing the many fine shops and restaurants located in downtown Danville. Buy fresh. Buy local. Live well.