When ALIVE's Editor posed the question, "Where were you in '62?" I knew the answer immediately. I was a freshman at Mercy High School in Burlingame, CA.
The Space Needle—an innovative edifice topped by a revolving full-scale restaurant that seated 250—had recently been constructed for the World's Fair in Seattle. (In 1962, it was the tallest structure west of the Mississippi.) John Glenn had become the first American to orbit the earth, so "space-age" became the catch-word to hype just about anything, including the food we ate. We wanted it modern, and we wanted it fast. If a mere powder packaged in a hermetically-sealed envelope required only tap water to become a beverage, soup, or whipped topping—all the better. This made us feel we were riding the crest of progress; and, somehow, we were one with the astronauts.
There was a young family in the White House, and their parties were legendary. Official guests no longer endured dubious dinners prepared by U.S. Navy stewards. Now René Verdon, a French-born American chef, ran the White House kitchen in style. He soon became a celebrity in his own right, sharing his recipes in dozens of magazines and eventually writing his own cookbooks.
Washington's constant stream of notable guests, ranging from diplomats and heads of state to the nation's finest intellects and artists, now dined on luxurious items like vichyssoise, spring lamb, Beef Wellington, and fresh strawberries. Fine wines were showcased in the State Dining Room, and the world took notice. Lest we feel excluded, the First Lady led us on a private tour of the newly restored White House during an unprecedented television broadcast. This was our House, and we were proud.
As Francophile-fever ran rampant in the U.S., flights to Europe became more frequent and increasingly affordable. Well-traveled Americans (as well as those who only dreamed of a European vacation) set out to recreate the "exotic" foods enjoyed in other countries. Air travel to Hawaii also increased dramatically in 1962, lending tropical flair to our home cooking. At most grocery stores, though, the lettuce was still iceberg and green vegetables were frozen and mushrooms came from a can. So a whole breed of best-forgotten mongrel recipes was born—vile creations like lasagna made with American cheese, and chicken baked with bottled salad dressing and canned pineapple. All washed down with a miraculous new product called Diet-Rite cola.
Beyond the scarcity of quality ingredients, however, most home cooks—aficionados of '50's convenience-foods—had little or no technical skill in the kitchen.* But that didn't deter anyone from embracing home entertaining, Mad Men-style. Commercially-bottled barbecue sauce sent smoke signals throughout suburban backyards; while pre-liberated city housewives struggled to copy ambitious White House menus. (It may not have been Boeuf Bourguignon exactly…but a healthy glug of red wine was probably added to her tried-and-true beef stew.)
To capitalize on these trends a new wave of cookbooks hit the market, featuring budget- or instant-gourmet dishes. (The "I hate to cook" and "how to get and keep a man" genres also thrived.) Eventually all-American Jell-O salads and the humble casseroles of yesteryear were upstaged by French-inspired sauces fashioned from cream of mushroom soup and cooking sherry. (Oooh la la!) Even Americans' beloved cans took a modern turn with the invention of pull-tab lids.
In both urban and suburban areas, farm-fresh food was something you might encounter only at some remote roadside stand—when the entire family took a long car ride after church on Sunday. Vegetarians were an oddity then; and those who promoted the consumption of fresh, natural foods were called "health nuts."
It was during this time that an enterprising Swiss-born chef working at the Chalet Suisse restaurant in New York City thought to increase profits by enticing his diet-conscious customers to order dessert. His secret weapon? Melted Toblerone chocolate bars served as a dip with fresh fruit. Dieters eat fruit, right?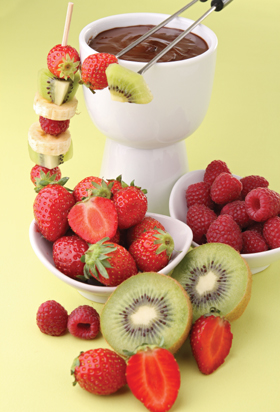 The idea was a roaring success. The trend spread not only across the U.S. but to Europe as well, where the Swiss adopted the recipe as their own and started serving it at chic ski resorts. As near as anyone can tell, this was the beginning of the chocolate fondue craze—which still thrives to this day.
In 2013, serve this timeless classic with a selection of flavor-packed, locally-grown fruits from the farmers' market. Dried fruits and nuts are good for any time of year; but this month think tiny pitted apricot halves; cherries-on-the-stem; chunks of sweet cantaloupe; and big fat strawberries. Lots and lots of strawberries.
Come to think of it, maybe you should double the recipe.
Toblerone Swiss Fondue
Toblerone candy bars are Switzerland's popular mélange of fine chocolate blended with honey and chopped almonds. Each triangular break-apart chocolate log, reportedly shaped to mimic the Swiss Alps, is tucked neatly inside a distinctive little box. Totally charming.
3/4 cup heavy (whipping) cream
6 (3 1/2-ounce/100g) bars milk chocolate or semisweet Toblerone, broken into individual pieces
2 to 4 tablespoons cognac, to taste
In a medium saucepan, heat the cream over low heat until hot but not boiling. Gradually stir in the chocolate, letting each addition melt before adding more. Stir in the cognac.
Pour the chocolate mixture into a fondue pot and serve warm, not hot. Makes about 2 cups.
Toblerone suggests that if by some chance there is any leftover fondue, it should be refrigerated until firm enough to form into balls, for Toblerone truffles.
*Although Mastering the Art of French Cooking received critical acclaim when first published in 1961, it was not until 1963, when The French Chef came bounding into our homes on PBS, that Julia Child became everyone's first cooking teacher.
The Danville Certified Farmers' Market, located at Railroad and Prospect, is open every Saturday, rain or shine, from 9 a.m. until 1 p.m. For specific crop information call the Pacific Coast Farmers' Market Association at 1-800-949-FARM or visit their web site at www.pcfma.com. This market is made possible through the generous support of the Town of Danville. Please show your appreciation by patronizing the many fine shops and restaurants located in downtown Danville. Buy fresh. Buy local. Live well.