'Tis the Season of Lists. Greeting card lists. Gift lists.Grocery lists. To-do lists. Lists to remind me to consolidate earlier lists. It seems I've barely perfected the pumpkin arrangement in my entryway and suddenly it's time to get serious about the Holidays. Yes, the ones that begin with a capital H.
Amidst all the madness, I find it comforting to take refuge at the farmers' market—where I'll never hear the beep of an electronic scanning machine or the tedious repetition of recorded Christmas carols. This low-tech approach to shopping in the fresh air delivers just about everything I need for entertaining, as well as plenty of creative ideas for gifts of good taste.
Instead of slapping a bow on yet another bottle of wine this year, how about offering the golden luxury of California extra virgin olive oil to your favorite home chef? There are crisp apples, voluptuous pears, and fragrant oranges and tangerines just waiting to be tucked inside a wicker gift basket. The early risers on your list will delight in a gift of artfully preserved jams and locally-produced honey for their morning indulgence.The floral selection at the farmers' market is also more spectacular than ever this month, with fresh-cut flowers intermingled with top-quality plants and evergreens at bargain prices. Bakers and snackers alike will appreciate this year's harvest of crunchy California walnuts and almonds, and a sweet spectrum of moist dried California fruits.
While perusing the aisles at the farmers' market, take time to consider the thoughtfulness of a homemade gift-from-the-kitchen. Even if you didn't spend your summer putting up pickles and preserves, there's still time for some quick-fixes. Spicy-sweet nuts, packed in a cellophane bag and secured with a festive bow, make a welcome gift and a satisfying nibble to enjoy throughout the season. (They also fill your kitchen with wonderful aromas while baking.)
Candied citrus peel—made from something you would normally toss in the compost pile—is far superior to anything store-bought. And another way to show you care. If you can resist snacking throughout the day, serve the candied peel with coffee at the end of a meal; chop finely and stir into muffin or cake batter, or into scone or sweet-bread dough; dip in dark chocolate; or use as an edible garnish for desserts or cookie platters. For variation, use tangelo, pink grapefruit, Meyer lemon, or other thick-skinned citrus instead of orange. (Thin citrus skins, like those from limes,can turn leathery when candied.) For best results, don't make these on a rainy or humid day. A certain amount of dryness in the air helps set the sugar-coating.
Sugar & Spice Walnuts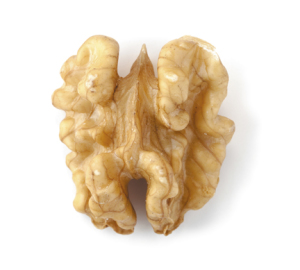 2 large egg whites, at room temperature
2 tablespoons water
1 pound California walnut halves (about 4 cups), or a combination of your favorite nuts
1 cup granulated sugar
2 teaspoons ground cinnamon
1/2 teaspoon fine sea salt
1/4 teaspoon ground ginger
1/8 teaspoon ground allspice
1/8 teaspoon cayenne pepper
1/8 teaspoon ground cloves
1/8 teaspoon freshly grated nutmeg
1. Preheat the oven to 225 degrees F. Line a baking sheet with a silicone mat, or grease lightly. In a large bowl, whisk together the egg whites and water until foamy. Add the walnuts, stirring to coat well. Transfer the mixture to a colander in the sink and let drain for 2 to 3 minutes. Wipe the mixing bowl dry with paper towels.
2. In the same bowl, combine the sugar, cinnamon, salt, ginger, allspice, cayenne, cloves, and nutmeg. Stir to blend. Add the walnuts and toss to coat well.
3. Spread the nuts in a single layer (without touching) on the prepared baking sheet. Bake until the sugar mixture has caramelized to make a crunchy, candy-like coating, about 2 hours. Let cool completely before storing in an airtight container at room temperature. Makes about 4 cups.
Candied Orange Peel
4 large navel oranges (about 3 pounds), rinsed well
2 1/2 cups granulated sugar
1. Using a sharp knife, cut off both the ends of the oranges. Cut the orange lengthwise into quarters, then—following the curve of the fruit— cut away the orange zest along with a very thin layer of the white pith. (Leave most of the white pith attached to the fruit.) Slice the peels lengthwise into strips about 1/4-inch thick. Reserve the fruit for another use.
2. Put the orange strips in a heavy 3-quartsaucepanand add enough water to cover. Bring to a boil over high heat and cook for 5 minutes.
3. Drain the strips in a colander. Return to the saucepan and cover with fresh water. Bring to a boil over high heat and cook again for 5 minutes. Repeat the process once more, making a total of cooking 3 times. (This will remove any bitterness from the skins.)
4. In the same saucepan, combine 1 1/2 cups of the sugar with 1 cup of water. Stir to blend, then bring to a boil over high heat. Add the orange strips and reduce the heat to low. Let the orange strips cook very gently, stirring occasionally to prevent burning and ensure they cook evenly,for 45 to 60 minutes, or until the strips begin to turn translucent.
5. Carefully drain the strips, reserving the syrup for another use (like brushing over a cake or adding to cocktails.) Set a rack over a parchment- or foil-lined baking sheet.
6. Put the remaining 1 cup of sugar into a bowl. Working in batches, roll the peels in the sugar to coat; shake in a sieve to remove any excess sugar;and spread on the rack so they are not touching. Let dry until no longer sticky, 5 to 6 hours. Store between layers of waxed paper in an airtight container at cool room temperature for up to 1 month. Makes about 3 cups.
The Danville Certified Farmers' Market, located at Railroad and Prospect, is open every Saturday, rain or shine, from 9 a.m. until 1 p.m. For specific crop information call the Pacific Coast Farmers' Market Association at 1-800-949-FARM, or visit their web site at www.pcfma.com. This market is made possible through the generous support of the Town of Danville. Please show your appreciation by patronizing the many fine shops and restaurants located in downtown Danville. Buy fresh. Buy local. Live well