The proliferation of television cooking shows has turned us into a nation of voyeurs. Our insatiable appetite for perfection transports us to the land where pasta is always made from scratch and calories never count. With no more than a click of the remote, we effortlessly transition from an ocean-view kitchen in Malibu to the plains of Oklahoma to a chic locale in the Hamptons. We swoon over impossibly complicated desserts; long for a personal florist to design our garden tablescapes; and cheer for our favorite "chef-testants." I know this because I'm right there with you. Until real life enters the picture.
April is a good reminder that sometimes the simplest things are the most satisfying. I don't feel compelled to top my "protein" with a cloud of foam. I don't need a pantry filled with magic powders or a tank of liquid nitrogen or a sous vide machine or a blast-chiller or an anti-griddle. Everything I need is in my own home kitchen. And the "fanciest" food I need is found at the farmers' market.
This month, cherry lovers will rejoice at the sight of those chubby little sweeties, and kiwi fanatics can get their fill before that fruit's season comes to a close. But most importantly, cruciferous and root vegetables are being moved aside to make room for early spring crops like asparagus, artichokes, fava beans, crunchy celery, and peas. Yes, I said peas—with enthusiasm.
Peas are something we tend to take for granted year 'round, for who among us doesn't have a bag or two stashed away in the freezer for emergencies? One taste of farm-fresh peas, however, and you'll understand what a sorry substitute their frozen counterparts really are. Sure, there is a bit of labor involved when you buy peas-in-the pod, but shelling them is a great job for kids, and a not-so-unpleasant task for adults. Just be sure to buy more than you think you'll need—during the shelling process, raw peas tend to become a popular snack food. (Pea Arithmetic: one pound of English peas-in-the-pod yields 1 cup of shelled peas. Before snacking.)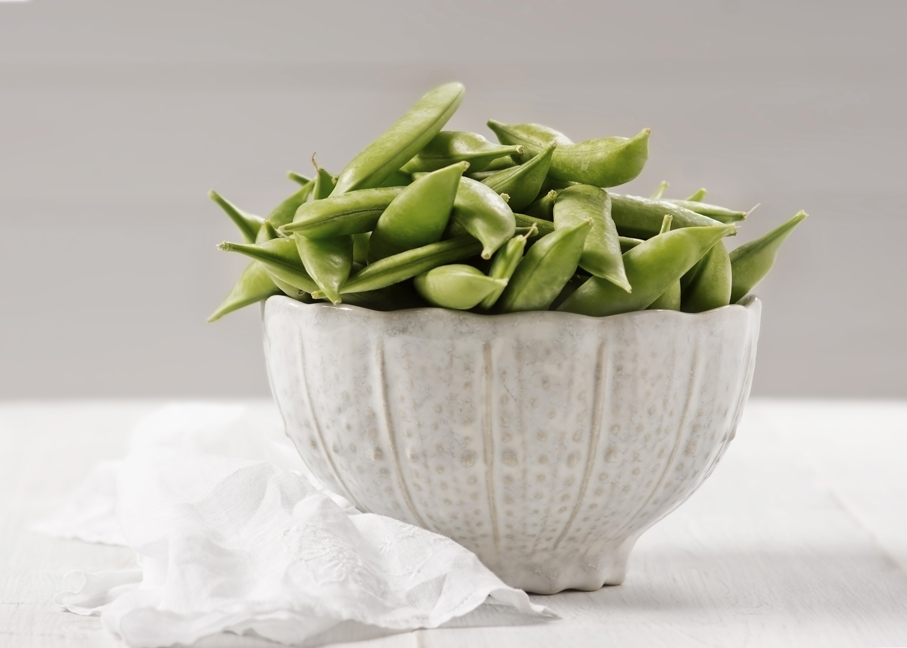 There are basically two kinds of peas: English peas (aka common garden peas-in-the-pod) that must be shelled to eat the "seeds" inside; and snow peas and sugar snap peas, which have edible pods. Snow peas—a favorite in Chinese cuisine—are flat, while sugar snaps peas are plump. Sugar snap peas also live up to their descriptive name—in a big way!
One of my go-to recipes for sugar snap peas comes from The Food Network—a worthwhile payoff for all those hours spent in front of the television. Ina Garten tells the story that this came about as the result of a fortuitous accident. Her staff had placed an order for snow peas and their produce suppliermistakenly sent sugar snap peas—which at the time were a fairly new on the market. As she was on the phone telling the supplier to pick them up, she tasted one—and the rest is history. She created this salad on the spot, and it sold out within hours. She then called the supplier and ordered 100 pounds for the next day.
The Barefoot Contessa's salad contains three ingredients, requires absolutely no cooking, and is utterly brilliant in its simplicity. To make it: Leave the sugar snap peas whole, but trim away the leafy end and remove the strings if needed. Toss the uncooked sugar snaps with barely enough Asian-styletoasted sesame oil to coat lightly. (Be miserly here. Don't think of the oil as "salad dressing." Add only enough oil to make the peas glisten.) Sprinkle with toasted black or white sesame seeds and serve at cool room temperature. In the words of The Food Goddess herself: How easy is that?
Emboldened with this revelation, I decided to play around with a saladrecipe from the Union Square Café in New York City. Although the restaurant's version calls for blanching the sugar snap peas, here in California—where locally-grown sugar snaps abound at the farmers' market—the step is totally unnecessary. So here is another winning recipe to celebrate the flavors of spring. Tune in next month for more perfectly simple ideas.
Sugar Snap Pea Salad with Pancetta
 1 pound sugar snap peas, ends trimmed
4 ounces pancetta, cut into 1/4-inch dice
2 tablespoons fresh lemon juice
2 tablespoons champagne or white wine vinegar
1 teaspoon coarse (kosher) salt or more, to taste
Freshly ground black pepper, to taste
1/2 cup California extra virgin olive oil
1 green onion (scallion), thinly sliced
3 tablespoons thinly sliced fresh mint leaves
1/3 cup freshly grated Pecorino-Romano or Parmesan cheese
1. Cut the snap peas into thin strips by slicing them on a sharp diagonal.
2. In a 10-inch skillet, combine the pancetta and 1 tablespoon of water. Cook over low heat, stirring occasionally, until the water evaporates and the pancetta begins to render its fat, 4 to 5 minutes. Increase the heat to medium and cook, scraping up any browned bits from the bottom of the pan, until crisp. Drain on paper towels.
3. In a large bowl, whisk together the lemon juice, vinegar, 1 teaspoon salt, and a few grindings of pepper. Gradually whisk in the oil.
4. Stir in the prepared sugar snaps, pancetta, green onion, mint, and all but 1 tablespoon of the cheese. Taste, adding more salt and pepper if needed. Sprinkle the remaining cheese over the top. Serves 4 to 6.
 Minding Your Peas and Q's
–Although "string-less" sugar snappeas are increasingly popular, more classic varieties have a tough string running along the length of the pod. If they are not labeled "string-less" at the farmers' market, just ask the grower. Removing the string is incredibly easy: Just snap off the leaf end and pull down on the string. (This is a mindless chore best done while watching The Food Network.)
–Like corn, the sugars contained within peas convert to starch shortly after harvesting, so it's best to buy them fresh from the farmers' market and eat them as soon as possible. Store them in an open plastic bag in the crisper drawer of the refrigerator.
– Regardless of which variety of peas you buy, always inspect the "packaging": look for plump, glossy green pea pods, crisp and free of blemishes.
–Easy does it! An over-cooked pea is a sorry thing. Strictly speaking, no peas require cooking—though giving common "English" peas and snow peas a quick sauté or blanch in boiling water will intensify their color and mellow their flavor ever so slightly.
 The Danville Certified Farmers' Market, located at Railroad and Prospect, is open every Saturday, rain or shine, from 9 a.m. until 1 p.m. For specific crop information call the Pacific Coast Farmers' Market Association at 1-800-949-FARM, or visit their web site at www.pcfma.com. This market is made possible through the generous support of the Town of Danville. Please show your appreciation by patronizing the many fine shops and restaurants located in downtown Danville. Buy fresh. Buy local. Live well.