Worn and well-loved hard back book covers decorate the walls of a cozy wood clad office. Encyclopedias and books from travels stacked on shelves with personal artifacts and photos. Decorating book shelves, whether they are in the Family Room, home office, or in a built-in down the hall, is an art that can be mastered with a few simple tricks.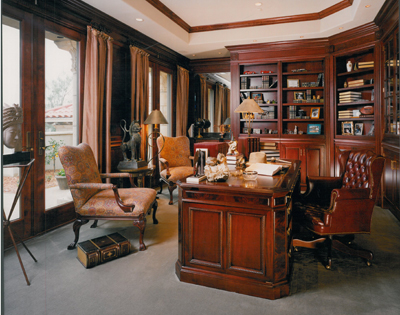 The home library should be a sanctuary for the avid reader with plenty of space to store the books you once lost yourself in. Stack books side by side and lay them flat with personal items on top to add dimension and character. If you have collections, sort the books by color and height. Sometimes removing the paper cover reveals a gorgeous hardback book that needs to be displayed. Keeping a consistency within the shelves keeps the eye traveling around the room.
Built-ins that travel down a wide, long hallway maximizes much needed book storage space. Keeping this area well lit with recessed spot lighting will accent your display nicely. Bookshelf space only has to be as deep as the width of a book so small accent walls can handle a decorative, custom niche. Designing your cabinetry to reflect your personal design style can be tricky. Wood species, stain or paint color, and decorative elements are all items a designer can assist with. Your home library area is a fun way to express your style and show off your love for books and travel.