Reiki has become a popular treatment for those who seek to calm that unseen energy that surrounds us. I know, I know, it sounds like a hoax – one of those schemes to trick people into spending money on a seemingly made-up idea. I can tell you, in all honesty, at one point, I was as skeptical as you might be. As long as you're open to the idea that energy is real and that of others does, in fact, affect you, you'll see the benefit of this type of work.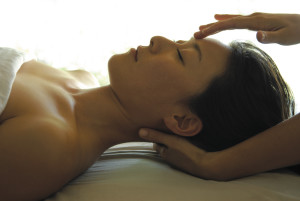 A Japanese technique for stress reduction and relaxation, this type of energy work also promotes healing, both physically and mentally. It's a seemingly simple treatment involving light touch to administer healing energy properties for the ailing. As someone who has been around this type of energy work my whole life, I can attest to its healing properties first hand and from the praise expressed by our clients.
Our bodies are made up of unseen energy fields that can become blocked or hindered, due to outside influences or injury. Reiki helps to unblock and alleviate stress and pain, enabling the mind and body to work more effectively and efficiently. The energy works to help calm your nerves and quiet your head; racing thoughts and anxiety are often dissipated with energy work. If you find yourself with a mind that won't quit buzzing when you're trying to relax or just live your life without any nagging thoughts, Reiki is highly recommended.
Unlike traditional massage, there is no need to undress for Reiki treatments, so you're able to remain comfortable throughout the session. During the treatment itself, many people experience different types of sensations. These range from vibration to a feeling of pulsating; sometimes areas feel a heating or cooling sensation after being touched. Whatever the feeling is, people are always amazed with the results.
We offer Reiki massage to help promote even more relief and relaxation during your already much needed massage, as well. Give me a call at the spa and I'll be happy to answer any questions that might be running through your head now. We have special pricing options for this unique type of work, so come in and give it a go!